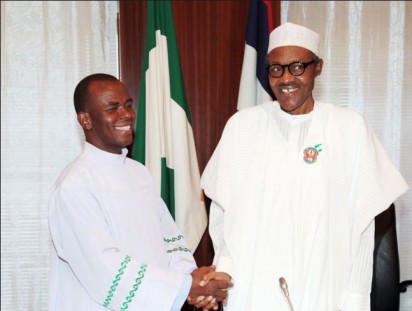 Mbaka-Buhari
By Anayo Okoli
UMUAHIA—FOLLOWING Rev. Father Ejike Mbaka's prediction of possible assassination plot against President Muhammadu Buhari, a group, Buhari South-East Youth Movement, BSEYM, has threatened to shut down the country if anything ugly happens to the President.
The group advised anyone or group with such evil plan to have a rethink "because such will spell doom for not just the country."
In a statement in Umuahia, Abia State by its leader, Mr. Nwabueze Onwuneme, the group expressed its support for President Buhari's anti-corruption war.
It called on anyone with any knowledge of any ploy against the President or the country to immediately divulge such to law enforcement agents.
According to the group, Mbaka's prediction should not be dismissed with a wave of hands because "corruption really fights back dirty when attacked."
It called on all well-meaning Nigerians to resist the evil work of "this small group that wants to kill this country," and which had improvised the masses, and support President Buhari in his effort to sanitize the country.