By Henry Boyo
Christine Lagarde, the Managing Director of IMF, held strategic meetings last week with President Muhammad Buhari and some key members of Parliament and the federal executive. Godwin Emefiele the CBN Governor, also joined in the consultations with the IMF boss, who quickly dispelled the trending perception that her visit was programmed to initiate discussions on an imminent IMF Loan.
Lagarde's assurance may have assuaged any anxiety that we may be positioned for another round of oppressive IMF conditionalities; however, she also confirmed that her discussions with the Nigerian authorities centered on "the challenges  stemming from the oil price reduction, and the need to find different revenue sources".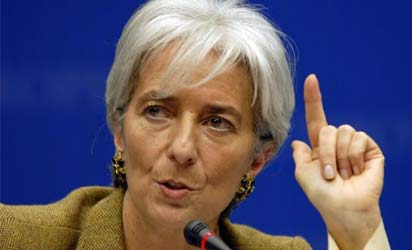 Consequently, the critical issues discussed related to evaluation of Nigeria's short term fiscal situation, and the application of fiscal discipline in the management of available resources, so as to effectively redress the pervading social welfare deprivations of the masses and also reduce the widening gap between a very rich small minority and over 100 million other Nigerians  who live in abject poverty.
Buhari's well known resolve to wrestle corruption and plug deliberate serial leakages and administrative wastages is certainly in consonance with the IMF's expectation of fiscal discipline in governance. Indeed, Lagarde also expressed confidence in the current administration's trajectory.
Nonetheless, the IMF boss was clearly hesitant to endorse Nigeria's highest ever deficit of over 2Tn in the 2016 budget as fiscal discipline, particularly with the severe depletion in revenue from crude oil export, and the dismal prospect of crude prices remaining cheap in the foreseeable future.
Thankfully, the IMF however endorsed concerns expressed in this column about Government's 'ambitious' plan to dedicate about 35% of all generated revenue to servicing existing debt and Lagarde therefore cautioned that "it weighs heavily on the public purse when already about 35Kobo of every Naira collected by the federal government is used to service outstanding debts". Pray, how does one compliment a fiscal plan that resorts to borrowing to service its debts and also fund a substantial increase in recurrent and capital expenditure, without any consideration of the oppressive cost of servicing or the capacity of future generations to repay those debts.
However, Lagarde's empathic redemption song for the poor may encourage some Nigerians to pray that 'Mama Christiana' should not make this her last trip to Nigeria this year, if our government's apparent self destruct mode for debt accumulation persists with Legislative progress towards enactment of the 2016 Budget as proposed.
Indeed if the IMF remains passive on this score, Lagarde's sympathy for the poor, maybe decried as plain propaganda, just like her choreographed visit to an Abuja orphanage, to promote a public image of the Supreme Financial Regulator as a caring interventionist, in a world where the gap between rich and poor nations still continues to pull apart under the Fund's imperial watch.
Furthermore the IMF boss's recommendation for VAT increase to generate more revenue may not however be welcome news, particularly with organised labour, who will clearly be wary of the inflationary  implications on incomes and wages of the working class. Consequently, Government may be well advised to only consider VAT increases, specifically on Luxury and elite Lifestyle market products such as Air tickets, hotel and restaurant facilities(excluding local 'bukas' for now), yachts and automobiles with engine capacity above 2000 cc, spirits and tobacco as well as GSM airtime and personal and corporate turnovers in commercial bank accounts.
Nonetheless, VAT on those imported industrial raw materials which cannot be sourced locally, should remain at 5% so as to promote competitive pricing of locally manufactured products, while imports of finished consumer goods may conversely also attract a higher VAT levy as recommended by Christine Lagarde to generate more revenue.
The FIRS should also apply more resources to expand the tax net and increase revenue rather than squeeze 'more blood' from already well documented tax compliant enterprises which can barely survive. Furthermore, the prevailing low price of crude oil can certainly also accommodate 5% minimum VAT on the price of AGO (Diesel) which now sells, profitably according to the current PPPRA template without subsidy at about N100/litre.
Evidently, with petrol price presently below the erstwhile subsidized price of N87/liter; government may have finally eliminated subsidy to be in consonance with the strident calls by Lagarde's IMF for subsidy removal. Unfortunately, this 'subsidy free' fuel price will most certainly become dislodged, even if crude prices further slides, if the Naira exchange rate suffers further devaluation.
Regrettably, however, the IMF is obviously in denial that the Naira exchange rate and CBN's stranglehold monopoly on dollar supply are infact the major causative factors in fuel pricing. For example, any further depreciation in the Naira exchange rate beyond N200=$1 will immediately trigger higher pump prices proportional to the exchange rate differential. Conversely fuel price will fall below N60/litre, without subsidy, if the Naira appreciates to N100=$1, even if crude prices rise again.
Surely the above scenario is certainly a more plausible reflection of real time market dynamics, as increasing crude oil prices should normally swell our reserves and engender a stronger Naira. Inexplicably however, the Naira exchange rate remained static between N150-160, even when CBN accumulated best ever reserves in excess of $60bn. Ironically, our bountiful reserves brought no succor to the economy, as the Naira exchange rate, unexpectedly, steadily depreciated, notwithstanding the prevailing favorable output and crude prices, while fuel prices, conversely spiralled to induce over N1Tn as subsidy payments annually.
Instructively, however, the IMF team will successfully resolve the above dilemma with a careful consideration of the market dynamics between systemic excess Naira supply and CBN's weekly auctions of dollar rations which predictably promote weaker Naira exchange rates that distort resource allocation and also destabilise those economic fundamentals which promote poverty by instigating higher inflation rates and prohibitive cost of funds to the real sector.
The patent failure of the instruments of monetary policy was again highlighted when the CBN Governor and IMF boss appealed to CEOs of money Deposit banks, at a consultative meeting last week, to support the real sector with more single digit loans. Clearly, such appeals are meaningless so long as both the CBN and Government at all levels happily pay double digit interest rates for the trillions of Naira they themselves borrow annually.
It is inconceivable that the above counterproductive results of monetary strategy would escape the attention of Lagarde and her formidable array of IMF experts, unless of course, they are all knowingly looking the other way, so that the predictable failure of our economy will sustain the historical template for trade between  colonies and their imperial masters.