•As pregnant women die in IDP camp over lack of healthcare
By Emman Ovuakporie and Johnbosco Agbakwuru, Abuja
Speaker of the House of Representatives,Yakubu Dogara has recounted how he lost his first cousin, a Divisional Police Officer, DPO, serving in Borno State to the Boko Haram sect in one of the attacks in the area.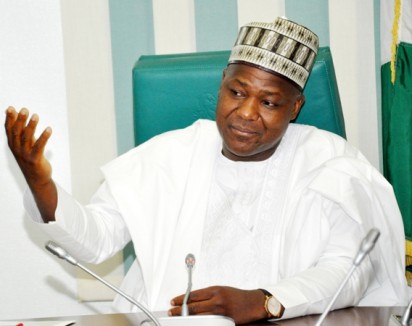 Dogara who disclosed this when he visited the Wassa Internally Displaced Persons, IDPs, resettlement camp at the outskirts of the Federal Capital Territory, FCT, Abuja, with food items and clothings said majority of them from the North East had been victims of the Boko Haram onslaught in the zone.
The items donated by the Speaker to the four IDP camps in the FCT were 250 bags of rice, 550 bags of maize, 600 bags of millet, 80 cartons of sugar, 250 bags of beans, 100 Jerry cans of vegetable oil, 100 bags of salt, 200 cartons of Indomie Noodles, 700 pieces of Super wax print and 700 pieces of Guinea Brocade.
Speaking after donation, Dogara told the victims who were begging to be taken back to their various communities in the North East that it would be irresponsible of the government to allow them go home where there were still pockets of attacks by the insurgents.
He said that the Nigeria Armed Forces had made appreciable efforts towards combating terrorism in the area,that it would only be wise to release the IDPs to go to their various communities when calm had finally returned to the area.
The Speaker also assured the IDPs that he was championing the creation of North East Commission through the the enactment of law in the National Assembly and that the Bill, if passed into law, would take care of the devastation that had been done in the area.
According to him, "To be very frank with you, even if I don't come here I know the situation already. I come from zone and my own life is testimony to the kind of devastation we have witnessed in that place."
"Like one of the Honourable members said, perhaps all of us in the North East are victims, I lost my own first cousin. He was DPO in one of the local government in Yobe State. He was killed in active duty. "So, I am already familiar with the level of devastation in the zone and that has more than ever, strengthened my resolve to ensure that we provide succour to the IDPs.