To spice up the Yuletide season, the Centro Lekki Mall recently convened a musical show for Lagos residents.
Held at Centro Lekki Mall Lagos, the event brought together shoppers, family and friends to appreciate the significance of the season.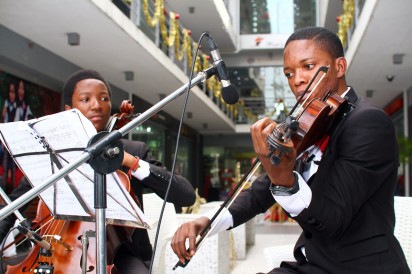 With an audience which included the "creme de la creme", the event featured the Muson School of Music who serenaded the audience and shoppers with Christmas Carols, jazz band, string quartet and more.
It was a normal shopping day with special discounts from selected stores
In a chat with Vanguard at the venue, the Publicist of the convener, Miss Omawumi Ogbe, said the show was put together  for residents of the Lekki community and Lagos at large, and to bring attention to our purpose-built, Luxury boutique shopping Mall.
She said: "This will be the first of an annual Centro Christmas tradition designed to bring the community together.  Similar events will occur at key seasonal milestones.
" It was a family Christmas fun day as well as a normal shopping Day"
She further provided insight into the benefits of shopping at Centro. Ogbe said:"The benefits of shopping at Centro Lekki Mall are that we attract both international brands and top Nigerian brands e.g. Diesel, LEGO , Ruff N Tumble, Tara, Grey Velvet, Chocolat Royal."
What makes us unique is the variety of shops we are able to attract combined with a Rooftop Restaurant and Coffee Shop/bakery.
The  The shops range from Women's wear/Men's wear/bespoke designer wear/children's wear, Hat Shop, Hair Salon, Beauty Spa services, Luxury Gift Store, Luxury Drinks and Champagne Store, Fabric Store,Tara Beauty Store with head-tie and make-up services, Toy Shop, "Paint and Bake"  for the children.
In effect, we provide the shoppers with a one-stop shop experience in a luxury boutique-sized Mall.