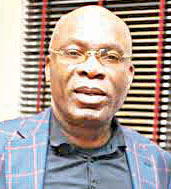 Leo-Stan Ekeh (New)
…urges Buhari to engage private sector to save the economy
By Prince Osuagwu
LAGOS—Chairman of Zinox Group of companies, Mr Leo-Stan Ekeh, yesterday advised President Muhammadu Buhari to urgently engage the private sector to ease the stifling economic situation in the country.
Ekeh while addressing a cross section of newsmen in Lagos yesterday said that Nigerian businessmen are going through harrowing times to sustain their businesses now due to the forex restrictions imposed by the present administration, adding that perhaps less than one per cent of Nigerian businessmen will still be standing if current realities remain till March this year.
He lamented that not being able to source adequate foreign exchange to transact business has made a lot of businesses lose credibility in international market and if that continues the entire economy may shut down.
However, he also expressed optimism that the Nigerian economy can never shut down totally but warned that "the shocks and gaps in the economy at the moment represent our current realities and we must find creative ways to navigate this harsh economic climate. The unprecedented fall in the price of crude oil is a global phenomenon which even the smartest economist couldn't have predicted. The only regret is that successive governments failed to save for the present rainy day we are experiencing when prices were at their peak.
"Having said that, we must always look forward. I sincerely believe that the current administration has the requisite political will and capacity to see the country through this storm and the new mindset of Nigerians to get things done properly also helps.
"I also believe that the organized private sector holds the key to a way out of the present quagmire. As a matter of urgency, President Buhari should engage the private sector to save Nigeria. The three levels of the sector drives over 80 per cent of Nigeria's economy and certainly, we can only move forward when the government carries them along.
"Recall that in the run-up to last year's elections, President Buhari met with representatives of the private sector in Lagos to present his party's economic plans. This and other engagements certainly went a long way in contributing to his victory at the polls.It is my considered opinion that the time is right for the President to enlist the support of the sector in finding a way out of the current economic challenges," he added.