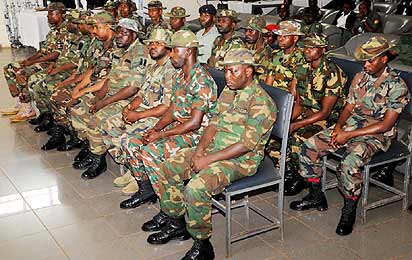 *Some suspected culprits at the inauguration of a general court martial to try erring army personnel, in Jos, yesterday. PHOTO: NAN.
….say they have never been really re-instated
By Luka Binniyat
KADUNA—The 3032 soldiers, who were pardoned last August for various offences during campaigns against the Islamic terrorist group, Boko Haram, in the North East of Nigeria, have rejected posting to the fronts.
The soldiers explained that they were never really pardoned and re-integrated into the Army, but rather, re-sentenced to the war front.
Vanguard learned this created anxiety at the Command and Staff College, Nigerian Army School of Infantry, NASI, Jaji, Kaduna state, when over 3,000 soldiers – who claimed to have been subjected to unimaginable ill treatment after their pardon – were gathered by the Commandant of NASI, Major General Kassim Aldulkareem, to inform them that they have been assigned new riffles and should be ready for deployment to the fronts on the 11 January, 2016.
No reinstatement letters
According to sources, the soldiers complained that they have not been fully re-instated into the Nigerian Army, because attempts by them to report to their units were rejected at their bases since they have no re-instatement letters.
The soldiers also said that since they have been kicked out of the barracks they have not been paid for seven months making their families who live off-barracks begging for food.
It was gathered that, they cried, "We are not going! Give us re-instatement letters! You are sentencing us back to war," among others. According to sources, the Commandant hurriedly left when the soldiers were becoming uncontrollable.
One of the soldiers who spoke to some newsmen on grounds that his name not be mentioned said: "Look at me; I have put in about 28 years of my life serving this country. I have seen action in Liberia; I have been to Rwanda, Sudan and even served overseas and we the Nigerian troops did very well and were decorated in some occasions.
"But, our experience in fighting to save our motherland is too sad a story for the outside world to know. We are not cowards. We held on for over four months facing Boko Haram.
"I just want to say that after the Army dismissed about 5,000 of us, 3032 of us were pardoned last August. Since that time, the Army Authority has treated us like prisoners of wars.
Asked to assemble in Jaji
"We were told to assemble in Jaji on August 17, which we did. Then on August 19, the General Officer Commander, GOC, of 1st Infantry Division, Maj. Gen Adeniyi Oyebade gathered us and without prior noticed moved us to Nigerian Army training Centre, NATRAC, Kontogora. Some of us found ourselves there in bathroom slippers. We were just taken straight to the place. Then, without any additional clothes or uniform, we were subjected to what was clear punishment, not training for another three weeks.
"Still in the clothes we came, we were again relocated to 333 artillery Barracks, Njetilo, Maiduguri. We got nothing but constant insults as cowards. We were there without uniforms no arms. They just left us there and we were abused and told to assemble at every two hours through these days for another three weeks.
"In Jaji, we went through another round of punishment, not training. Yet, we were not given any letter to show that we are still serving soldiers.
"So when the Commandant came and said we were going back to the North East, without clearing our status, we felt we have been punished enough." he said.
The Public Relations Officer, PRO, of the Nigerian Infantry Corps, Major C.K Abaide, told our correspondent on phone that he was not aware of the development.
"I shall reach you back immediately I have our side of the story", he said, but never did at the time of sending this report.