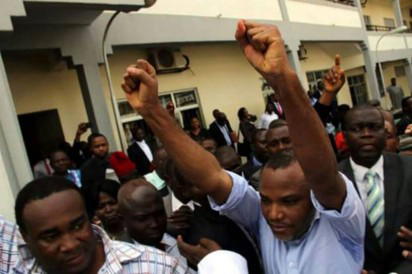 Nnamdi-Kanu in court
…accuses FG of cracking down on Igbo leaders
By Nwabueze Okonkwo
ONITSHA—Campaign for Democracy, CD, South East Zone, yesterday, joined other human rights bodies in the call for the immediate release of the leader of Indigenous People of Biafra, IPOB, Nnamdi Kanu, the Publicity Secretary of Peoples Democratic Party, PDP, Chief Olisah Metuh and the former National Security Adviser to President Goodluck Jonathan, Col. Sambo Dasuki (retd).
In a statement in Onitsha, Anambra State, CD also expressed concern that Buhari had formed the habit of cracking down on Igbo leaders at any slight provocation.
In the statement by its chairman in the zone, Dede A. Uzor, CD recalled that Kanu was arrested on October 17, 2015 and a court of competent jurisdiction granted him bail, yet Buhari refused to release him, just as he also refused to obey the court order which granted Dasuki bail to travel abroad for his medical check-up.
CD regretted that up till date, the duo are still languishing in the dungeons of the Department of Security Services, DSS, adding that Tuesday's arrest of Metuh was viewed as a clandestine move to silence opposition.
The statement, therefore, gave Buhari a seven-day ultimatum within which to release the above named individuals from detention or else CD would mobilize more than 70 million Ndigbo, both home and in the Diaspora, to carry out a mass protest against their continued detention.
The statement noted that CD was not against arresting any corrupt public officers, but reminded Buhari of the need to obey the sanctity of court orders or rulings, which he swore to uphold, adding that it was very dangerous when such leaders like Buhari disobey court orders.
"Buhari should tell us how many All Progressives Congress, APC, members he has arrested for corrupt practices or does it mean that APC members are all clean, including the former President, Olusegun Obasanjo, who allegedly spent over $16 billion on power sector reform without anything to show for it?"