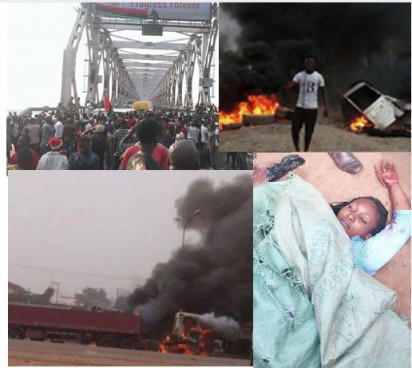 Scene of Onitsha protest
…as group defies police order to protest in Delta, Abia, Enugu states
Judge fails to show up in court over Nnamdi Kanu's case
Cleric denies appointment as Biafra INEC commissioner
By Vincent Ujumadu, Festus Ahon,  Nwabueze Okonkwo, Ugochukwu Alaribe & Chimaobi Nwaiwu
It was a theatre of confusion, yesterday in Aba as eight  members of the the Indigenous People of Biafra, IPOB, were allegedly shot dead by the military during their  peaceful protest over the continued detention of their leader, Nnamdi Kanu, according to  the spokesman of IPOB, Emma Powerful .
The Director of Radio Biafra, Mr Kanu was supposed to appear at  the Federal High Court Abuja, yesterday, but the much awaited case was adjourned due to the absence of the judge.
The adjournment came as a shock to IPOB members, who gathered at the court premises and its environs early yesterday morning waiting to see their leader, but were sadly shocked when it was announced that the case had been postponed indefinitely.
No formal communication was made to the lawyers of the detained Biafran activist and no reason was given as to why the judge was absent from the court.
It would be recalled that the case was assigned to a new judge, Hon. Justice John Tsoho,  after many weeks of searching for a judge. It  is  also not yet clear whether Justice John Tsoho abandoned this case as his  colleague, Justice A. Mohammed  did sometime in the past.
The case has been adjourned to  January 21, amidst  speculation that another judge might be appointed for the controversial trial.
The members and sympathizers of the leader of IPOB were gathered eagerly waiting to get a glance of the leader, but were shocked when it was announced that the court date had been adjourned.
The action of the judge appeared  to confirm the speculation  that no judge would want to get involved in this case as their judgment may not be respected by the Department of State Services,DSS, and the Federal Government.
Protests in Delta, Enugu, Abia
Irked by the development, the  IPOB, yesterday, defied directive of the Police on the ban of public protest/procession and staged a peaceful protest in Asaba, the State capital, Enugu and Abia over the continued detention of the Director of Radio Biafra, Mr. Nnamdi Kanu by operatives of the DSS.
The protesters in Delta, who marched from Abraka Motor Park through Nnebisi Road to Okpanam Road from about 12 noon to 3:30p.m., caused serious traffic grid along Nnebisi Road as commuters, who were taking their wards from school and other road users were stranded for several hours.
Speaking to Vanguard, the Delta State Coordinator of IPOB, Jonah Chukwuma, called on the Federal Government to immediately release Kanu and grant freedom to the Biafra people.
His words: "We are protesting for the release of our director, our leader, Nnamdi Kanu, that the 'zoo' people are still holding. Let them release him now . Secondly, let them grant us our freedom because we cannot be slaves forever.
"We are tired of staying in this country called Nigeria; we want our own country, which is Biafra, that is what we are agitating for. We are peaceful people, we are non-violent. As you can see, our rally is a peaceful one. We are protesting so that the whole world will hear our voice."
On why they were protesting in Asaba, Chukwuma said: "We are protesting in Asaba because Asaba is part of the Biafra land. We have about 25 states that make up Biafra and as I speak to you now, the protest is going on in these states, including Abuja."
The group also,  yesterday, lashed out on the Abia State Governor Dr Okezie Ikpeazu and his Rivers State counterpart, Chief Nyesom Wike for their alleged directive to the security agencies in the two states not to allow them carry out their protest.
Abia, Rivers govs are impositions
Addressing newsmen in Nnewi, IPOB Media and Publicity Officer, Mr. Emma Powerful said the two state governors are simply seeking for the political relevance they cannot get from the All Progressives Congress, APC, led government of President Muhammadu Buhari, adding that in spite of the police threats and some governors' directive to prevent them from holding their protests, they held combined protests in Abia, Delta and Enugu states.
He said he is not surprised about the comments of the two governors because they belong to Peoples Democratic Party, PDP, and are not popular candidates in their states.
"They were imposed on their states and may be planning to defect to APC by making comments that will make them look sympathetic to the APC government  so as to retain the seats they are on the verge of losing.
Aba boils over killings
The Aba killings, according to our correspondents,  were triggered off when the Uchenna Madu faction of the Movement for the Actualization of Sovereign State of Biafra, MASSOB, clashed with a combined team of soldiers and policemen.
The pro-Biafra groups, who had ordered markets, banks, schools and other business centres to close shop in solidarity with their protest, converged at the National High School, on Port Harcourt Road, Aba, from where they attempted to march and enforce the order, but were quickly dispersed by soldiers and policemen.
The protesters later converged at the Asa Road and the Main Park area where they made bonfires and road blocks on Asa and St. Michael's roads by Mosque and York streets, which obstructed traffic, leading to another confrontation with the security agents.
Shops including banks which had opened for business hurriedly closed their shops while the roads were deserted.
It was also observed that security was beefed up at the Ariaria Police Division to ensure that the pro-Biafra protesters did not burn the station, while soldiers were stationed at Milverton, Azikiwe/Asa and Port Harcourt by Ngwa Road junctions where they ordered passers-by to raise their hands.
Vanguard gathered that the protesters earlier confronted the soldiers at Port Harcourt Road which led to the death of one of their members. In a similar clash around the St. Michael's Road area, a bystander, Chidozie Okafor, was also hit by a stray bullet and he died before he could receive medical attention.
Speaking on the situation, MASSOB National Welfare Officer, Jude Chukwu, said the protest was peaceful until soldiers and policemen came and started shooting and using tear gas. He added that over 30 members of pro-Biafra protesters sustained bullet wounds and are being treated in various hospitals.
According to him: "The protest was peaceful until soldiers and policemen started shooting. As I'm talking to you, eight of our members have been shot dead. They should stop killing our members.. We  are only protesting for the release of our detained leader, Nnamdi Kanu."
When contacted, Abia State Police spokesman, DSP Ezekiel Onyeke, who disclosed that the Commissioner of Police, Habila Joshak, had been in Aba monitoring the situation, told Vanguard that 23 men and three women were arrested during the protest and urged parents to warn their children against criminal activities.
Onyeke, however, said he was not aware that anybody was shot dead during the protest, adding that security agents even heard gunshots from the protesters.
Delay tactics , a ploy to kill Kanu —Group
However, a  human rights group, Campaign for Democracy, CD, South East Zone had again called on the Federal Government to release the leader of IPOB, Nnamdi Kanu from detention, based on the four orders of both the Wuse Zone 2 Magistrate court and the Federal High Court 6, Abuja Division.
Chairman of CD in the zone, Uzor Uzor, who spoke to newsmen on phone, yesterday, in reaction to the allegation that court did not sit to deliberate on DSS' fresh treason charge against Kanu, said the executive arm of the government should not disobey either the legislative or judicial arms of government.
Uzor said it was very dangerous for the executive to disobey the judicial arm by refusing to release Kanu as ordered by the courts, adding that the implication was that the executive is now showing executive lawlessness, which is counter-productive to democracy and the rule of law.
He accused the Federal Government of applying delay tactics in handling Kanu's matter, probably as a systematic approach towards killing him in detention.
He said that they would not be scared of killings or arrests until Kanu is released and Biafra is restored.
Cleric disowns Uwazurike's appointment
In a new development, a Catholic  priest, Reverend Father Samuel Aniebonam, who was last week, named as the chairman of Biafra Independent Electoral Commission, B-INEC, to conduct and supervise the internal election for offices in his newly -formed Biafra Independent Movement, BIM, had dissociated himself from the appointment, describing it as a spurious  publication linking him with the Biafra struggle.
In a statement made available to Vanguard in Awka, Aniebonam said he was surprised that Uwazurike could make such appointment without seeking his approval and urged the general public to disregard it.