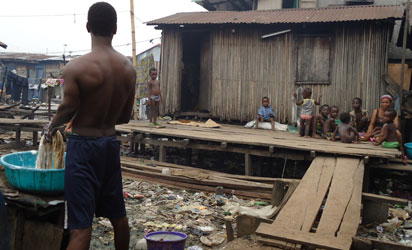 An abode in Lagos
The Minister of Information and Culture, Alhaji Lai Mohammed, has said the Buhari Administration will intensify the fight against corruption in order to conserve funds to improve the quality of life of the most vulnerable people in the society, including women and children.
In his remarks during a courtesy visit to Women FM 91.7, the premier radio station dedicated to women and family issues, in Arepo, Ogun State, on Thursday, the Minister said the government is determined to address some of the challenges confronting women and children through a sustained fight against corruption, so that available funds could go into reversing the high rate of infant and maternal mortality, poverty, unemployment, lack of potable water among others.
He expressed confidence that very soon the people would begin to feel the impact of the social intervention programmes of the government, which are aimed at lifting millions of people out of poverty and providing them with decent means of livelihood.
"The fight against corruption is central to the government's mandate. After insecurity, corruption is the most serious problem the country is facing," the Minister said
He said the success of any government is not only marked by the number of infrastructure provided but how it addresses the issues of poverty, unemployment and inequality, adding: "One of the things this government decided to do is to address these three issues and move people massively out of poverty and we intend to do this using the N500 billion we have put aside for social intervention. This money will help women, artisans and unemployed youths through their various cooperative societies."
Alhaji Mohammed commended the vision and passion of the management of Women FM, saying they have carved a niche for themselves by devoting the station to issues affecting women and children.
"I am very elated that we have a radio station that is devoted to women and children issues. When you cater for women and children, you have catered for the society," he said.
In his address, the Chairman of Women FM, Dr. Babatunde Okewale, said the station remained a reliable, trusted and leading source of information on issues pertaining to women and children, because of their vulnerability.
He appealed to the Minister to strengthen the National Orientation Agency so it can more effectively play its role of sensitising the people on the nation's ethics and values, thus discouraging harmful cultural practices against women.
Dr. Okewale said the station had evolved a strategy to expand its listenership by distributing solar-powered transistor radio sets, locked permanently on 91.7 FM, to women at the grassroots to keep them abreast of issues relating to their social and economic well-being.
Earlier, the Managing Director the Women FM, Mrs. Toun Okewale-Sonaiya, took the Minister on a tour of the station's facilities.