By Vincent Ujumadu, Chimaobi Nwaiwu & Francis Igata
The Ohanaeze Ndigbo, the apex Igbo socio-cultural organisation, has pleaded with President Muhammadu Buhari to release Nnamdi Kanu to Igbo leaders, assuring that they would make him realize the futility of continuing his pro- Biafra stance.
Chairman of state presidents of Ohanaeze in the seven Igbo -speaking states, Dr. Chris Eluemunoh, told reporters in Awka, Anambra State, that Igbo leaders were equally concerned with the security challenges posed by the activities of the pro-Biafra group, adding that once Kanu was released to Igbo leaders, they would sit him down and discuss with him and make him realize the negative effects of continuing with efforts to actualize the Biafra Republic.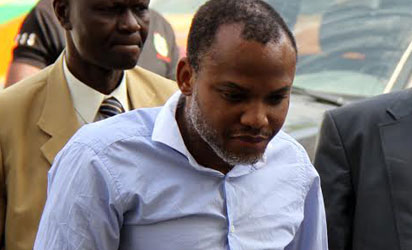 Also, International Society for Civil Liberties and the Rule of Law, a rights group, has called for the release of Kanu, 90 days after he was arrested by the DSS in Lagos, and taken into its underground custody in Abuja and held without trial or conditional (bail) release or unconditional release till date.
The group in a statement by its chairman, Emeka Umeagbalasi, insisted that "the arrest and detention of Citizen Kanu and their circumstances are in grave violation of all known constitutional, regional and international conventional liberties or civil and political rights.
"Gravest of these violations by Buhari and his DSS are the provisions of Section 35 (4) (a) (b) of the Constitution of the Federal Republic of Nigeria 1999 as well as Sections 293, 295 and 296 of the Administration of Criminal Justice Ac, ACJ, of 2015.
"Therefore, we feel saddened and alarmed over Buhari administration's anarchic approaches and dispositions, which are steadily leading Nigeria to irreparable destruction of  its organised society, public morality and decency. The consequences of the Buhari administration's contempt for rule of law are economically, politically, socially and ethno-religiously calamitous. Economically speaking, for instance, no rational foreign investor will risk his or her investment or capital in a country where its president boldly appeared on national television and declared disobedience to judicial decisions and disrespect to rule of law as sacrosanct and the corner stone of his administration.
"Citizen Kanu's detention of over 60 days without trial or bail release is prohibited by Section 35 (4) (a) of the 1999 Constitution which clearly stated that "any person who is arrested or detained in accordance with subsection 1 (c) of this section(reasonable suspicion of committing any criminal offense or preventing commission of a criminal offense)shall be brought before a court of law within a reasonable time, and if he is not tried within a period of: (a) two months from the date of his arrest or detention in the case of a person who is in custody or is not entitled to bail (in capital offenses), he shall (without prejudice to any further proceedings that may be brought against him) be released either unconditionally or upon such conditions as are reasonably necessary to ensure that he appears for trial at a later date."