Minister of Sports and Youth Development, Barrister Solomon Dalung has explained why he wears 'Khaki' uniform to public functions.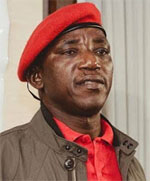 Nneka Ikem Anibeze, the spokesperson and Special Adviser to the Minister of Sports and Youth Development, Comrade Barrister Solomon Dalung said the Minister ''is a staunch activist who cares for the welfare of the masses. His wears portray the struggle for the government to provide a better life for the people''.
She said: "My boss is a Comrade and will like to be seen as one. He is a voice for the voiceless who loves to fight for the hopeless and the down-trodden. That is just his style. It also indicates that the struggle continues wherever he finds himself and in whatever position."
Nneka said: "I trust my boss, he is as constant as the Northern Star. He won't change regardless of his position. That is simply his style", Nneka who is the first female sports Journalist to be special Adviser to a Minister said.
30 minutes  after a hard fought 3-2 win over Mali, the Honourable Minister of Youth and Sports, Barr. Solomon Dalong, put a call across to players and officials of the U-23 National Team (Dream Team), urging them not to rest on their oars but go all out for the Olympics ticket.
Congratulating the boys for being brave warriors to overcome the Mali hurdle, the Youth and Sports minister said no game is easy and the fact that they could withstand the pressure from the Malians goes to show that they possess the true fighting spirit of Nigerians.
"Let me assure you all that your efforts will not go unnoticed; all I ask of you is to relax, enjoy this moment, then concentrate on your next game, no game is easy, but from the much you have shown against Mali, I know you guys can make it."
Barr. Dalong had before the game put a call across to the team, charging them not to let the nation proud.
Responding Coach Siasia thanked the Youth and Sports Minister for finding time within his busy schedule to give the team a morale -boosting call, while assuring the Minister that the team would not disappoint Nigerians.
Siasia called on all to support the team, saying that they have come this far and cannot afford to falter.