Governor Adams Oshiomhole of Edo State said he asked the immediate past Head of Service of the State, Mr. Jerry Obazele, to proceed on compulsory retirement over gross negligence tending towards fraud.
Speaking during the swearing-in of the New Head of Service of the State, Mrs Gladys Osaretin Idahor at the Government House, Benin City, Tuesday, Oshiomhole said "I am a defender of jobs. I believe experience is a value to be celebrated, not to be punished. But I have had to arrive at the painful conclusion that Obazele had to be relieved of his services because not only did he fail to provide leadership, he also conducted himself in a way that would have led me to approve of a fraudulent claim for pensioners.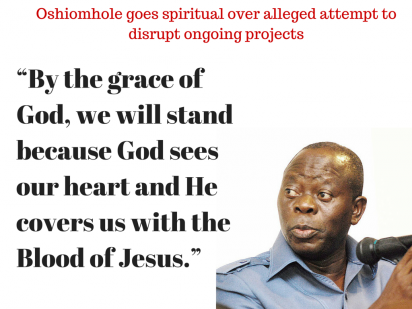 "He was appointed according to my judgment and I accept responsibility for my poor sense of judgment but I also have the courage to correct my mistakes once I discovered it was a mistake.
"The responsibility of a Head of Service is to be a superintendent over the Civil service. There are many of our senior citizens who had retired from service from as far back as 1999, some even under the military and by the time I assumed office, many of these senior citizens had not received their gratuity for over a period of 12, 13 years. The situation was compounded by the thousands of workers that were retrenched by a former PDP government between 2000 and 2001 and all of those people were not paid their gratuity.
"There is no worst crime to a working man or woman than to deny him his deferred wage which we call gratuity which is meant to be paid at the point of disengagement so he can use the money to establish and face the rigors and reality of retirement.
"We tried to deal with this problem from inception. First, I gave a standing instruction to the Accountant General that pensioners must be paid exactly the same day as the current Civil Servants. It is not that we pay them if there is something left because at the end of the day, nothing will be left when you pay for every other thing. You must give priority accordingly.
"Two months ago, I called the Head of Service and I said, I am looking forward to the end of my tenure. When I say I want to finish strong and finish well, it is not only in the area of physical infrastructure, but I also want to deal with the social sector. I want to look for money and pay a chunk of money to these pensioners so that we can reduce the waiting time.
"So I asked him, do you have the numbers and the cost and he said yes and I told him, let me have the documents. He produced a document which detailed the number of pensioners year-by-year and the amount required year by year.
"No more gratuity based on who you know, it is batch by batch depending on when you retired. So I saw from the records that Obazele gave me that we have paid up to 2010. We have paid many people who retired in 2010 and according to the document, we had 130 persons who retired in 2010 who have not been paid and we had some other persons in 2011, 2012, 2013 and 2014.
"These numbers were stated clearly and he also stated clearly to me, how much we required to pay for each year. For 2010, the figure was N175 million to settle the 130 persons. I said, OK, you let me have the names of these 130 persons for 2010 and the names of those who retired in 2011 through 2014 and the amount. The date of the retirement, the day of employment, the total number of years served which is the basis of calculating gratuity.
"One week passed, two weeks and by the 3rd week, I was watching news and I saw pensioners protesting but I had given instructions three weeks earlier that I want to pay these pensioners but I needed the details to do it.
"I told my secretary to call the Head of Service to submit all the details by 11am the next day since he already has the summary so we could start the process of payment. He should come also with the Pension Board Members and all the documents that have to do with pension payments.
"At 11am, they were in my office and they gave me a voluminous document. Just looking at it straight, I tried to look at 2010. Whereas the first document that was given says 130 pensioners have gratuity pending, the total value of which was N175 million, the new document shows 2010 that we have 377 people and we now need N490 million to pay them. For 2011, 2012, 2013, all the figures had changed.
"So I said, I don't know all the details but 2010, I remember asking you, and you said many have been paid and that only 130 is the number left. So how has this number increased by 300% to 377? Obazele you are an Accountant, you have been Auditor-General, you have been Accountant-General, Permanent Secretary and now Head of Service. You more than me should be at home with figures, how do you explain this?
"The first thing he said was that, you know maybe they changed the mode of calculations. Maybe they are looking at when the papers were prepared rather than when people retired so I said, whatever formula you used, the number must remain the same. The total cost will not change. The only possibility of the numbers changing is if you have doctored the documents.
"In any case, the first document was given to me by you, prepared by ICT and this one you are giving me is also prepared by the same unit. Why should differences occur? If two people use different formula, I can understand. This is the same source and then he said, 'oh, I didn't actually look at the documents'. I said, you didn't look at the documents you brought to me?
"The document, four persons signed: Accountant and DFA Pension Board signed, Secretary Pension Board signed, Director, ICT Software signed, Permanent Secretary, ICT signed, four signatories .Now, if I hadn't remembered what they gave me before, seeing four signatories, I would have approved it and the numbers had changed radically.
"Now, the simple thing was that in the past, when they bring this document, I normally minute it to the ICT to crosscheck. So now, they got ICT person to sign so that I have no escape route but trust, there was an escape route and I could see through it. So I called the Director of SSS to send me security officers to the pensions board to retrieve all the files so we could prepare fresh documents that would form the basis to pay those pensioners.
"As a result, my hope and determination to pay those pensioners before my 7th year anniversary was dashed. You see, I had the will, I had looked for the money but somebody in the Civil service compromised my intention by falsifying numbers. That is Civil Servants inhumanity to Civil Servants.
"We had to appoint a new audit firm and they have shown something that will shock you that in the Pensions Board, they prepared for 1 person, 2 pensions with 2 original documents. Same date of birth, same salary, everything same, but two original vouchers. So whereas the real man is old and dying, those that the government has put in place to prepare their pension are busy feasting on the lives of these senior citizens.
"We are disbanding the Pensions Board because they have lived on fraud. Now we are reviewing and re organizing even the ICT, clean it up and ensure we have responsible and competent people with character to man it.
"I believe and I am determined that before Christmas, not later than next week, we will do everything possible to commence the process of paying many of these pensioners whose records have been cleaned up.
"This is the reason I had to take the painful decision of relieving the former Head of Service of his job and in searching for replacement. I know a lady who had managed, easily the most difficult ministry and under whom we have sanitized the ministry of education.
"So I believe that Mrs. Idahor possesses not just the qualification and experience but also the boldness and I know that the service will be in very good hands."
The Governor explained that his decision was taken to protect the interest of the Pensioners and Edo taxpayer and does not have any ethnic or religious coloration.
In her response, the new Head of Service, Mrs. Gladys Idahor said, "I want to appreciate the Comrade Governor for finding me worthy of this elevation to the position of Head of Service.
"I want to assure you sir, that the trust and confidence you have reposed in me by this elevation will not be betrayed.
"I'm not unaware of the challenges facing the Civil Service but I want to believe they are not insurmountable. I promise, with God helping me, to re-orientate, reinvigorate and re-organise the public Service for better performance realizing that the Civil service is the engine room of the government."