By Ayo Onikoyi
Uti Nwachukwu is a multi talented dude who burst into the limelight when he won Big Brother Africa       Season 5, The All Stars edition in 2010.Ever since, the debonair entertainer has continued to up his game and remains a force to reckon with in the Nigerian entertainment scene.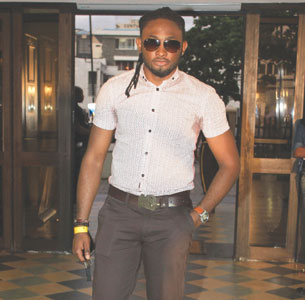 Handsome, stylish and rich too, many would think this guy has women falling over him as easily as a piece of candy but it is not so. Uti has had his share of heartbreaks just as he has broken a few of others too. He owned up to Ayo Onikoyi in a recent chat.
"Of course who hasn't?" He retorted when I asked him if his heart has ever been broken. "And I have had my heart broken too. We all break people's hearts please.
Let's leave that one. They have broken my heart, they have crushed it. I have broken heart and my heart has been broken. especially     when I was young   in my late 20's.Right now, I am trying to allow myself to be loved. The last girl that was on my case said something to me:'Uti allow somebody to love you' and I guess I did"