By Theodore Opara
Stallion NMN, Nissan's exclusive manufacturer and product distributor in Nigeria has received one of Nissan Motor Company's highest honours – the Nissan Global National Sales Company Award which was presented to the company at a banquet in Lagos by representatives of the Japanese automaker.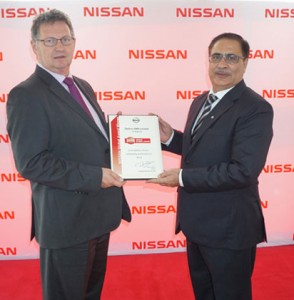 The Nissan National Sales Company Global Award is in recognition of exceptional performance in sales and market share achievement. Stallion NMN has consistently grown Nissan market share year-on-year, culminating in a significant leap from 4% to 10% in the 2014 financial year.
In his address, Mike Whitfield, Managing Director and President, Nissan South Africa Region applauded Stallion NMN for consistently elevating Nissan market share in Nigeria.
He said: "We have worked side by side with the Stallion Group to achieve what is a very encouraging increase in our share of the key Nigerian market… and we are delighted all results show Nissan is making progress."
Whitfield described Nigeria as a key market for Nissan with ambitious potential for growth despite the current slump in global oil price and dwindling economic trend. He assured Nissan has strong desire to make a full and lasting contribution to rebuild the automotive industry in Nigeria, and play a significant role in the growth of the manufacturing sector.
Also adding that Africa has become an increasingly important market for all manufacturers, the Nissan President envisions demand could rise by 24% through 2016 supported by an expanding GDP and a versatile middle-class that is central to a growing economy and mature political system.