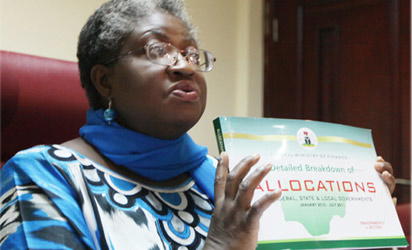 Finance Minister, Mrs. Ngozi Okonjo-Iweala
By Emma Ujah, Abuja Bureau Chief
The call by Socio-Economic Rights and Accountability Project, SERAP, that former Minister of Finance, Dr Ngozi Okonjo-Iweala, be probed over the management of the Abacha loot is a politically sponsored campaign to serve an agenda, Mr. Paul Nwachukwu, her Media Adviser , has alleged.
"It is curious that SERAP, ignoring more worthy issues, decided to embark on this fishing expedition of a 10 year old process that was handled in an exemplary and transparent fashion. This shows that neither the organization nor its charges should be taken seriously.
"Even though SERAP says its allegations were based on a World Bank statement, it neglected to tell the world that the same World Bank actively collaborated with the Federal Ministry of Finance on a 2006 field report which analyzed how the repatriated funds were used," he said in a statement, yesterday.
According to Mr. Nwabuikwu, "It will be recalled that, as part of the repatriation process, the Swiss government requested and the Nigerian government under President Obasanjo agreed that the World Bank should monitor the use of the repatriated Abacha funds.
"The field survey, released in 2006, is titled 'Utilization of Repatriated Abacha loot: Results of the Field Monitoring Exercise'. It shows that specific funds were indeed transparently programmed and used to boost the budgets of specific target ministries in 2004 and 2005."
He admitted that Civil Society Organisation, CSOs paly critical roles in ensuring transparent management of public funds, globally but that SERAP has made itself a tool in the hands of corrupt interests.
"To say the obvious, civil society groups play a very important role in putting positive pressure on government to remain focused on good governance in order to ensure that clear and measurable results are achieved. No country can manage governance to global standards without civil society groups. And Nigeria is no exception. Nigeria has many credible advocacy groups doing important work in many areas.
"It is therefore sad that SERAP which has made other false allegations against Okonjo-Iweala is hiding under the hallowed umbrella of civil society while acting as a tool for reprehensible, corrupt vested interests," he said.
Mr. Nwabuikwu insisted, "No amount of sponsored propaganda can conceal the fact that the implementation of the agreement with the Swiss government was done transparently and the report was publicly issued. The entire process was properly managed and reviewed with the help of reputable international organizations."