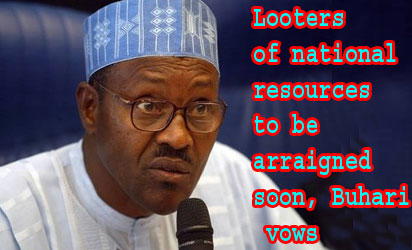 Buhari
By Chris Ochayi
The president, Quantity Surveyors Registration Board of Nigeria, QSRBN, Mallam Husaini Dikko, has charged practising quantity surveyors to queue behind President Muhammadu Buhari to wage war against corruption especially in the construction industry.
Dikko also called on the construction cost experts to uphold the ethics of their profession in the course of carrying out all their responsibilities.
The QSRBN boss who gave the charge at the recent induction ceremony of newly registered quantity surveyors in Abuja, noted quantity surveyors have a role to play in fighting corruption in the building and engineering industry.
His words: "Quantity surveying is a profession for decent and honest men/women of integrity. It is not a profession for hustlers and those with compulsive propensity for unbridled materialism and primitive accumulation of wealth. It is a profession for decent men and women. It is a profession that is founded on trust and you must bear this in mind at all times. The Board will come down heavily on any unethical behaviour or professional misconduct by a registered quantity surveyor.
In this regard, registered quantity surveyors must queue behind President Muhammed Buhari in his anti corruption crusade. Quantity Surveyors have a key role to pIay in fighting corruption in the building and engineering industry".
He regretted that "quantity surveyors have been marginalised, incapacitated and sidelined by successive Nigerian governments, thus allowing corruption and looting spree to fester in the industry without any expert to check the malaise."
Buttressing this allegation, Mallam Dikko said: "Whereas a large chunk of the nation's annual capital budget is spent on roads, highways and bridges, successive government have not allowed quantity surveyors to get involved in these projects. But contractors who work for government on these projects use the services of quantity surveyors from the beginning to the end. This surely is curious and should arouse the suspicion of every patriotic Nigerian. The only way to fight corruption in such proejects is for government to engage quantity surveyors the same way contractors employ quantity surveyors in their organisations".
As a starting point, the QSRBN boss enjoined the Federal government to establish an independent department of quantity surveying and cost services in the Federal Ministry of Power, Works & Housing to provide quantity surveying and cost services on building and housing and engineering Services, highways and multi-lateral donor-funded projects for government.
"This is the cost effective way to fight corruption in the building and engineering industry to save Nigeria the notoriety of having the most costly construction projects in the world despite our cheap labour cost. This will inevitably save money for government to spend on other development projects," Mallam Dikko said.
Cheap labour
On the area of risk management which he described as key to the effectiveness of quantity Surveying practice, the QSRBN president argued that "as risks are necessary occurrences in life, understanding the science of risk management is therefore a normal course of life.
"A registered quantity surveyor must anticipate and simulate various risk scenarios when offering professionals services to clients. As we engage in increasingly complex and technologically sophisticated projects, the imperatives of risk management become more compelling for a registered quantity surveyor.
"There are various types of risks that a registered quantity surveyor must anticipate and confront in the course of his professional practice."