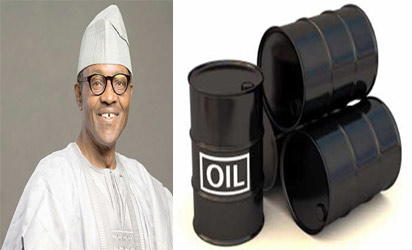 Buhari-oil
The Northern Nigeria Development Company (NNDC) on Friday, said it would begin oil and gas exploration in the north- east in the first quarter of 2016.
Chairman of the company, Alhaji Bashir Dalhatu, stated this while briefing journalists at NNDC's 47th Annual General Meeting (AGM) in Kaduna.
Dalhatu said the company was collaborating with its technical partners and the Nigerian National Petroleum Corporation (NNPC), on the expertise and budgetary requirements for the take-off of the project.
The company's Group Managing Director (GMD), Alhaji Ahmed Musa, further said NNDC could not commence the project as earlier planned due to the security situation in the region.
Musa said NNDC was also constrained by finance anc production sharing formula.
He said the company needed 20 million dollars for exploration on each of the four oil blocks which caused part of the delay, assuring that plans were underway to begin the project within the first quarter of 2016.
The GMD said the NNDC would open the exploration in the four oil block s allocated to it in the Lake Chad Basin, while plans were underway to acquire four more oil blocks in the region.
On the AGM, the NNDC said that the company had recorded 42 per cent increase in its income the financial year ended March 31, 2015.
"Operating income increased from N651.2 million to N923.9, while a 73 per cent increase had been recorded in operating profit before tax from N137.2 million to N237.2 million.
" Furthermore, increase was recorded in earnings per share of 87 per cent from 16.7 kobo to 31.2 kobo and 4.4 per cent in net assets per share from N14.1 to N18. 5 when compared with results of the preceding year ended 31st March 2014. "
The chairman further said NNDC had trained 541 chartered accountants since inception of the programme in 2007 under its Young Professional Development Trust across centres located in Kaduna, Kano and Ilorin.
Bashir said the fourth study centre would soon be opened in Gombe state for youths in the north-east.