As the Federal Government on Wednesday struck out the case against a pro-Biafra activist after the prosecutors withdrew criminal charges against him. His lawyer, Vincent Egechukwu has said that the  implication of the ruling showed that Nnamdi Kanu has no criminal charge hanging on his neck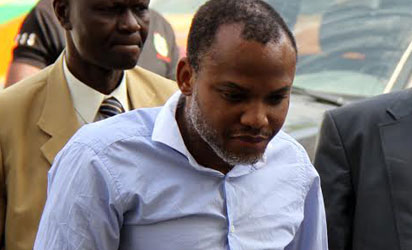 Vincent Egechukwu speaking said  that "the implication of the ruling today is that Nnamdi Kanu has no criminal charge hanging on his neck as we talk today."
"The only thing we need to do is to take the legal process to get him out of wherever they have detained him. I am grateful because we are getting close and close to the goal post," he said.
Egechukwu said the DSS had secured a secret order from an Abuja high court to detain Kanu for 90 days pending his investigation for terrorism and terrorism financing charges.
No fresh charges have been filed, he said.
He said his client had challenged the detention order before the high court where a ruling was expected on Thursday.
Nnamdi Kanu, whose arrest in October has sparked a wave of protests across the southeast, is however still held by the Department of State Services (DSS).
"The accused person is hereby discharged and the case is struck out," Chief Magistrate Shuaibu Usman said.
Kanu, who is campaigning for a separate state of Biafra, was not in court for the ruling.
Kanu is the director of Radio Biafra, which the government has accused of being "seditious" and of broadcasting "hate speech", and a founder of the banned Indigenous Peoples of Biafra (IPOB) group.
Biafran protesters have renewed agitation for a separate state for the Igbo people of southeast which fought a brutal civil war with Nigerian federal forces from 1967 to 1970.
The conflict which left some one million dead mainly from starvation and disease, was sparked when Biafran leaders unilaterally declared independence from Nigeria.
Nigerian prosecutors had on October 19 charged Kanu with criminal conspiracy and intimidation, as well as membership of an illegal organisation, in the magistrate court in Abuja.
But the prosecution applied to discontinue the trial on these charges while indicating he remained under investigation on other allegations.
Subscribe for latest Videos