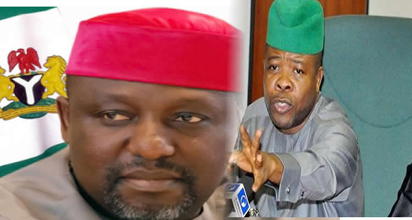 Okorocha-Ihedioha
By Chidi Nkwopara
OWERRI—The former Deputy Speaker of the House of Representatives, Chief Emeka Ihedioha, has expressed shock over media reports that Imo State government has earmarked over N600 million for Christmas and New Year decorations in the state.
According to a press statement by his media aide, Mr. Chibuike Onyeukwu, the former Deputy Speaker questioned why Imo should spend such huge sums at a time the citizenry are going through untold hardship arising from over 20 months of unpaid salary arrears and pensions.
It was the considered opinion of Chief Ihedioha that the 27 local government councils had been comatose for years, while several industrial disputes had remained unresolved.
"There are several unresolved industrial disputes, while the state's infrastructure base has collapsed. Today, there is palpable lack of vision for the genuine development of the state, but the government chose to embark on such inciting and frivolous window dressing," Ihedioha fumed.
Continuing, Chief Ihedioha said that "despite the prevailing widespread disenchantment being expressed by citizens, who recently called for his immediate impeachment over the alarming rate of hunger and insecurity occasioned by the inept handling of issues of governance and unrepentant deceit so far exhibited by the Okorocha led administration, the governor has refused to repent or address such concerns and other critical issues."
While saying that "preparations for Christmas celebration is a tradition all over the world," Ihedioha, however, said, it was "ridiculous and indeed smacks of insensitivity for this government to spend over N600 million on decorations when families can no longer afford their meals and basic needs as a result of non-payment of salaries, pensions and other entitlements."
He expressed displeasure that Governor Okorocha had refused to constitute his cabinet six months after election, pointing out that there was no local government administration and no functional ministry, department or agency in the state.
"The governor has embarked on several trips abroad to woo non-existent investors with a view to actualizing his failed promises of aggressive industrialization and employment of youths," Ihedioha said.
Chief Ihedioha urged Governor Okorocha to quickly retrace his steps and begin to address the plight of workers, pensioners and other critical issues of governance in order to avert looming economic crises, insecurity and indeed stave off what could be the bleakest Christmas celebration in the history of Imo State.