*To require certificates as collateral
By Babajide Komolafe
The Central Bank of Nigeria (CBN) has reviewed the guidelines for the N220 billion Micro, Small, and Medium Enterprises (MSME) Fund to allow new businesses (start-ups) borrow from the fund.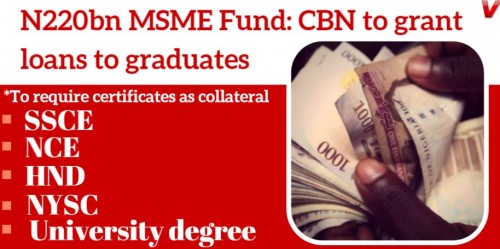 The CBN also said that banks and other finance institutions that lends to business start-ups under the fund will be allowed to access the fund at zero interest rate.
This was contained in the Revised Micro, Small and Medium Enterprises Development Fund (MSMEDF) Guidelines issued yesterday by the Development Finance department of the CBN.
Previously, only existing businesses can borrow from the fund through their banks. The new guidelines however removed this limitation stating, "Participating Financial Institutions (PFIs) are required to fund start-up projects under the MSMEDF. To encourage  Deposit Money Banks (DMBs)  and  Development Finance Institutions (DFIs), some incentives shall apply.
"PFIs are expected to accept charge on fixed and floating assets of the financed projects as collateral for start-ups. Collateral requirement from start-ups by PFIs (DMBs and DFIs) shall be educational certificates such as SSCE, National Diploma (ND), National Certificate of Education (NCE), National Business and Technical Examination Board (NABTEB), Higher National Diploma (HND), University degree (NYSC Certificate where applicable) and a guarantor.
"The start-ups to access the MSMEDF must present their Bank Verification Number (BVN).  Venture Capital Firms (VCFs) that wish to finance start-ups in form of equity participation shall be eligible to access the MSMEDF at 2.0 percent for investment in start-up projects. The collateral for such facility to the VCF shall be bank guarantee.
"Incentive shall be offered to PFIs that repay loans as at when due. a) Start-Ups (i) DMBs/DFIs playing in this space, shall access MSMEDF facility at zero percent interest for on-lending at 9.0 percent (all-inclusive) to start-ups. (ii) The PFIs shall qualify for a 50 percent risk shared on the net outstanding balance in the case of default. b) Other Incentives Microfinance Banks with PAR of 10 percent and below shall be exempted from providing financial assets as collateral to access facility under the MSMEDF."
In addition to the above, the CBN also reduced interest rate it charges PFIs accessing the loan from 3.0 percent to 2.0 percent.  It stated, "Interest Rates All PFIs shall access funds at an interest rate of 2.0 percent per annum and on lend at 9.0 percent per annum inclusive of all charges. The interest rate chargeable under the MSMEDF may be reviewed by the Central Bank of Nigeria from time to time."
The decision to allow business start-ups borrow from the fund is aimed at boosting graduate employment by encouraging banks to lend to graduates intending to set up businesses.
Recall that the CBN Governor, Mr. Godwin Emefiele while addressing the just concluded 7th annual Banker Committee Retreat had announced that the apex bank would soon introduce measures to generate one million graduate employments.  He said, "In 2016, the CBN is contemplating a programme that would support SMEs at concessionary pricing to our young graduates.  We need to get more people to be employed. The central bank would over the next few weeks work out the initiative to create employment for at least one million graduates in Nigeria in 2016. That would entail the support from Nigerian banks and our development partners."