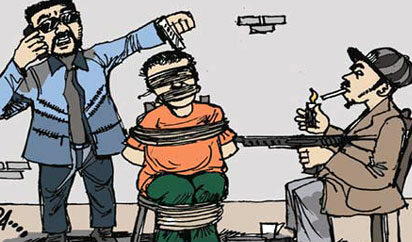 Kidnap
•Kill Rumuokoro Police Station DPO, DCO
•Butcher man; carry his corpse in wheelbarrow to family
•Residents cry out, urge IGP, Gov Wike to rescue them
By Davies Iheamnachor
IKWERRE—RESIDENTS of Aluu, Rumuji, Rumuokoro, Ozuoba, Agba-Ndele and other Ikwerre communities at Obio/Akpor, Port Harcourt City, Ikwerre and Emohua Local Government Areas, Rivers State, have raised the alarm over the trouble-free manner kidnappers and armed bandits abduct, rob and kill citizens in the areas.
Penultimate Sunday, November 29, armed robbers laid in wait and murdered the Divisional Police Officer, DPO, Rumuokoro Police Station in Obio/Akpor Local Government Area, CSP Cliff Igwebe and his Divisional Crime Officer, DCO, for having the impudence to respond to a distress call from citizens.
Four other police officers in the DPO's team landed in the hospital for wounds sustained during the surprise attack.
Six days before the DPO and DCO were shot dead, hoodlums on Monday, November 23 night, lured an Ibaa indigene, Mr. Azubuike Amadi, living at Omuokiri, Aluu community, Ikwerre local government area, out of his residence while he was about to take his dinner, killed him and conveyed his corpse to the house in a wheelbarrow. Amadi's hair-raising murder has heightened tension at Aluu community.
Police Public Relations Officer, Rivers State Police Command, DSP Ahmed Muhammed, said: "CSP. Cliff Igwegbe made a supreme sacrifice. He put his dear life on the line so that others do not. He, along other officers responded to a distress call but were ambushed by the hoodlums."
They slaughtered my husband– Bereaved wife
Mrs. Chinonye Azubuike-Amadi, the bereaved wife of Mr. Amadi, confirmed that the heartless killers of her husband brought him in a pool of his own blood like a slaughtered animal.
On the identity of the killers, she said, "I do not know the people, my husband was at home, around 10.00 pm when somebody came and called him out, he told me to prepare food for him, that he is coming back to eat it, but he did not come back alive." Relatives buried the deceased, last Tuesday, at his hometown, Omkpoba, Ibaa clan in Emohua local government area.
Kidnap pastor at Rumuji
Two days after Amadi's butchery, unidentified gunmen, November 21, abducted a clergyman, Pastor Peter, at Rumuji community, Emohua local government area at gunpoint. They accosted victim, who deals on phone accessories at about 8.00 pm whilst he was returning home after the day's business.    Even after ascertaining that he is a pastor, his abductors demanded for N6 million to release him.
Invade Ozuoba, kill man
Same day bandits waylaid and killed the police officers; a separate gang invaded a home at Ozuoba community, Obio/Akpor local government area and assassinated Mr. Anthony Wede. Assistant Police Public Relations Officers, Rivers State Police Command, ASP Grace Iringe-Koko, claimed ignorance of the incident when our reporter contacted her. She, however, said police would carry out investigation.
School still shut 2 months after kidnap of teachers
At press time, the Rundele High School, Agba-Ndele community, Emohua local government area, shut down two months ago after kidnappers abducted five teachers of the school, October 15, has not re-opened Five days after the Rundele school incident, kidnappers took hostage a secondary school principal at Elele, residing in Ndele.
On November 8, they seized a female principal and her two children from their home after giving them the beating of their life. It took the payment of N200, 000 ransom before they released the two Under-14 children.
Market women robbed
Last week, robbers commandeered a vehicle conveying women to Elele/Ahoada market and carted away their belongings.
Apprehension
Youths in the four local government areas, which make up Ikwerre nationality under the aegis of Ikwerre Youth Movement, IYM, are disturbed at the rate criminals were kidnapping and killing people. The youths expressed worry over the way hoodlums robbed travelers along Alimini-Emohua axis of East West Road, lamenting that Ikwerre communities have become a criminal jungle.
Leader of the group, Mr. Azubuike Wanjokwu said it was painful that government has not taken any notable proactive measure to bring the rising cases of crime in the area under control even when the governor is an Ikwerre son.
Wanjokwu expressed fear that business activities in the area may ground if government failed to take urgent measures to address the matter.
Daily operation by robbers, kidnappers
"Under the current leadership in the state, we witness daily occurrence of armed robbery and kidnapping, and we, the Ikwerre youths are not happy about that." "We have seen youths in the guise of political rally under the protection of dubious political characters assault the liberties of our brothers and sisters.
"We have witnessed an upsurge in kidnapping with concomitant elephant ransoms that leave victims in the smelly waters of penury without help," he said.
He asserted, "After the meeting of the body, we have decided that IYM will continue to partner with the Nigeria Police Force and other law enforcement agencies to expose persons who lend themselves to criminal activities no matter how highly placed."
AIG solicits monarchs' assistance
Meanwhile, the Assistant Inspector General of Police in charge of Zone 6, Mr. Baba Bolanta, has solicited the assistance of traditional rulers in Rivers State in the fight against criminals in Rivers' communities.
The AIG, who met with members of the Rivers State Council of Traditional Rulers, told reporters,  "I am on a familiarization tour of the states and part of my schedule is to meet with important stakeholders in security sector and the traditional rulers."
"The traditional institution is a very strong one and it is very important in this regard. They are like grassroots mobilizers and whatever they say at their level becomes a law in the community, so there is need for their support.
"What we are doing now is that we are partnering with the communities for crime control. We are bringing ourselves closer to the communities through the traditional rulers," he said.
The traditional rulers assured that they would join forces with the police to tackle crimes and criminals in their areas.
Police raid criminals' shrine
Apparently reacting to the siege, the police recently in a two-hour operation raided a shrine in a thick forest between Ndele and Rumuekpe communities allegedly used by the kidnappers as a hideout in Emohua local government.
A senior police officer in the area disclosed that the team arrested a native doctor suspected to be making charms for the boys terrorizing the area. The police reportedly confiscated some charms found at the shrine.