MASSOB, IPOB resolve to halt demonstrations
.. task FG on commitment to dialogue
Court adjourns hearing on bail applications for 8 to Dec 17
Veterans warn Biafran youths against Buhari's proposed Police, Army recruitment
By Jimitota Onoyume, Ikechukwu Nnochiri, Francis Igata, Nwabueze Okonkwo
ENUGU—The peaceful protests staged by members of Movement for the Actualization of Sovereign State of Biafra, MASSOB, and Indigenous People of Biafra, IPOB, over the continued detention of the Director, Radio Biafra, Nnamdi Kanu and the demand for creation of Biafra state may be halted following the resolve of the two pro-Biafra groups to give Federal Government room for dialogue.
Protesters in the South-East and parts of South-South geo-political zones had vowed to continue demonstrations until they actualize Biafra, which prompted governors from the region, under the aegis of South-East Governors Forum, SEGF, to push for a dialogue to secure the release of Nnamdi Kanu, among other issues of neglect and marginalzation of the people, at a meeting held at Enugu Government House.
Resolution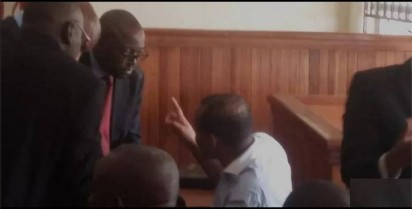 A joint resolution by Ugwuoke Ibem, National Secretary, MASSOB, and Emma Powerful, spokesman for IPOB, read: "We have decided to halt our demonstration, protest to pave way for the much published dialogue on Nnamdi Kanu's release. Our withdrawal from the major cities of Biafraland is not out of cowardice, but to prove maturity, professionalism as a decent self-determined group.
"We hereby issue an ultimatum to the Federal Government to prove their seriousness and sincerity on the much published dialogue on the release of Nnamdi Kanu. We shall continue with our non- violent self-determination on Biafra. MASSOB, IPOB will never relent or backside on the agitation for Biafra actualization. We condemn the stupidity, sabotage statement of Ralph Uwazuruike that IPOB,MASSOB introduced violence to Biafra struggle.
"Uwazuruike is a drowning man, who is living on yesterday shadow. Uwazuruike has lost grip on Biafra issues because of his deviation, compromise, open romance with Nigeria Government which has grossly affected his personality. We warn Uwazuruike and his group to stop dragging MASSOB,IPOB into a shameless, naked dance of visionless, missionless, blind existence."
Meanwhile, Association of veteran ex-soldiers under the aegis of Care First for the Aged Welfare Development, CFAWD, has distanced itself and also condemned the recent demonstration by group of persons agitating for creation of Biafra republic.
In a statement by its national chairman, Dr. Ubi Ikoi, CFAWD expressed displeasure over what it called the unnecessary and uncalled demonstration.
Ubi made a solidarity support to the President Mohammadu Buhari administration for steering the ship of the nation to an enviable height and frowned at the lacerant attitude and unwholesome destruction of property, loss of lives as well as disturbance of peace of the country by the agitators.
CFAWD boss remarked that there was need for every right thinking Nigerian to rally round and support the President Buhari led government in its strive to turn things around for better, rather than engage in causing confusion that will lead no one to any good.
Investigations
Meanwhile, the Federal Government, yesterday, told a Federal High Court sitting in Abuja,  why it was not in a hurry to release the detained  leader of Indigenous People of Biafra, IPOB, Mr. Nnamdi Kanu, claiming that its investigations revealed that Kanu, who it identified as the brain behind recent clamour for the creation of 'Biafra Republic', had already received huge sums of money to purchase weapons.
Government in a counter-affidavit before the court, said that prior to his arrest, Kanu, had already made enquiries about prices of all the weapons he intends to buy.
In the counter-affidavit by a senior officer with the Department of State Services, DSS,  Mr. Ayo Ibitoye, it insisted that it would be in the interest of justice, peace and order, to allow the IPOB leader to remain in custody of the security agency.
It will be recalled Kanu who is also the Director of Radio Biafra and Television,    was on October 17, arrested in Lagos by security operatives, shortly after he arrived Nigeria from his base in the United Kingdom.
He was later arraigned before a Chief Magistrate Court in Abuja  over allegation that he engaged in  criminal conspiracy, managed and belonged to an unlawful society.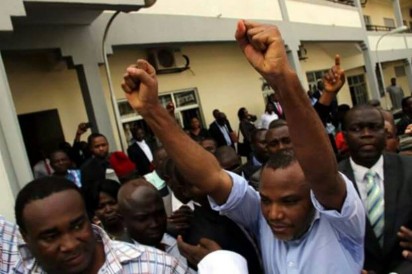 But on October 19,  pleaded not  guilty to the charge and was granted bail in the tune of N2million.
The court further directed the defendant to produce a civil servant of Grade Level 16, to stand as his surety.
However, the accused person alleged that the Nigerian government refused to release  him from detention despite the fact that he had met the bail conditions.
FG had while the matter was pending before the Magistrate court, secured an order from the high court to further detain Kanu for 90 days.
It was sequel to the  order that government lawyer,  Mr Moses Idakwo, asked Magistrate Usman to  step down from the trial on the ground that his court lacks the power and jurisdiction to prosecute terrorism charges.
Following an application by Kanu before the high court, seeking to enforcing his fundamental right to freedom, government filed a counter-affidavit, explaining why he will not been released, despite the clear orders of the court.
Adjournment
Also, Justice Hassan Quadri of a Federal High Court sitting in Port Harcourt, Rivers State, yesterday, adjourned hearing in the bail application for eight pro-Biafra protesters to December 17.
The court ordered that they be remanded in prison custody till the date for hearing of their bail application.
Counsel to Onyema Obilor the 4th accused, Mr Princewill Mukoro told the court that he filed application for bail about three weeks ago. Insisting that his client was innocent, he said he was disturbed by his detention.
The accused who were brought to court were later driven back to prison custody.
The court premises was filled with many of their supporters.
Meanwhile, reacting to the recent directive by President Buhari for the recruitment of an additional 10,000 policemen, nationwide, the Biafra Independent Movement, BIM, former Movement for the Actualization of Sovereign State of Biafra, MASSOB, in conjunction with Biafra Veteran Soldiers in Anambra North Senatorial Zone, yesterday, cautioned their Igbo kinsmen and their South South counterparts against participating in the proposed recruitment into police and Army for now.
The Biafra veterans, who spoke against the backdrop of the current insecurity of Ndigbo who are serving in the Federal Government armed forces and the police, also condemned the siege laid by policemen and soldiers in some states of the South East zone, including Anambra, Abia, Enugu, Eboyi and Rivers.
Recruitment
In a statement after a meeting at Nteje, Oyi Local Government Area of Anambra State, which dwelt on internal security matters, in Anambra North senatorial zone, leader of Biafran Veterans, General Robinson Nnanna said, intelligence report at his disposal on the formula regarding  the police recruitment exercise had revealed that Igbo applicants upon their completion of intensive courses, either as cadet Assistant Superintendent of Police (ASP), Inspectors or as recruit constables would  be posted to North East where they would be vulnerable to Boko Haram attacks while their Northern police counterparts would be transferred to South East and parts of South-South.
The statement by Deputy National Director for Information, of Biafra Independent Movement, BIM, Mazi Chris Mocha, enjoined Igbo applicants, who have interest in joining the Nigeria police or Army to wait until the terror war in Northeast was over.
At the zonal meeting attended by Lt. Col. Alex Ezenwaka, Col. Anthony Onyeesi, Emelife Francis, among others, the Veterans frowned at the critics of the emergence of pro-Biafra groups, saying there would have been no clamour for a Biafra republic if the Igbo were not treated as second class citizens and seen as inferior subjects rather than as equal owners of Nigeria.
They however, urged the Biafran leader, Chief Ralph Uwazuruike to keep up his good work, without minding whose ox is gored.
Subscribe for latest Videos