THE Lagos chapter of Independent Petroleum Marketers Association, IPMAN, has protested the harassment and sealing off of its members' filling stations over alleged hoarding and inflation of fuel prices in the country.
IPMAN said in a statement signed by chairman of the Satellite Depot, Ejigbo, Lagos, Alhaji Alanamu Ayo Balogun, that the action of the Department of Petroleum Resources (DPR) was uncalled for, irrational and unjustified.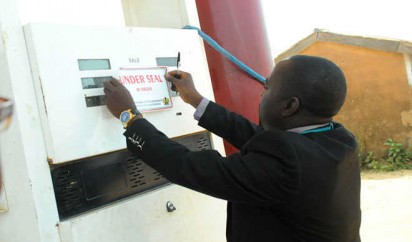 Alhaji Balogun chided the DPR for harassing and accusing the IPMAN's fuel stations and directing its action against innocent marketers when it knew that the depot owners were the culprits allegedly hoarding and inflation fuel prices. He said the depot owners should be blamed for selling fuel to IPMAN at the rate of N117 per litre. He asked: "If the filling stations get the fuel at N117 per litre, is it possible to sell to the public at N87 per litre. They have to add their running costs before selling to the public?"
Balogun said the DPR should confront the depot owners instead of giving his members a bad name. While stressing that IPMAN controls 85 percent of all the filling stations in the country, he questioned the rationale behind the fuel subsidy, noting that at all times, IPMAN bought fuel above the government controlled price from depot owners. "Depot owners will tell the IPMAN members to pay N77.66 kobo into one account which is the controlled price and pay the remaining money into another account. At other occasions, depot owners will sell all their products to one dealer at a higher price, and this dealer will sell to IPMAN at his own price, which negates the government controlled price of N87 per liter."
The IPMAN chairman asked the Federal Government to look into the fuel subsidy matter carefully, to avoid taking the nation for a ride by the fuel importers.
He faulted the National Assembly over its ultimatum to President Muhammadu Buhari to end fuel scarcity within two weeks in the country. "Two weeks period is too short to import fuel into the country by the depot owners," it said.
The IPMAN said this is an impossible task, considering the present situation of fuel supply by the NNPC and the private depot owners. According to Alhaji Balogun, it would take 21 days to import fuel into the country after an order has been made.
Alhaji Alanamu Balogun, said the problem of fuel scarcity could only be solved if the Federal Government releases the 'fuel subsidy' to Depot Owners who import the fuel. The truth of the matter is that even if the subsidy is paid today, it would take the Depot Owners 21 days to bring fuel into the country. The IPMAN commended the NNPC for its intervention method which made the little available fuel spread all over the country.