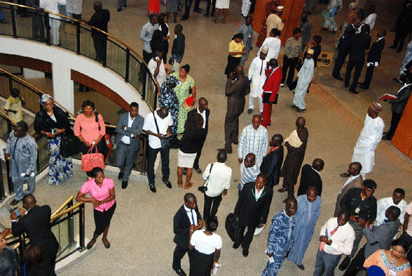 Job seekers storm National Assembly
By CALEB AYANSINA
ABUJA – Plans by a firm, Firstgate Business Intermediaries Limited (FBIL), few months ago to pocket the sum of N5.2 million from 1,379 applicants in Nigeria through tempting international job offers has been halted through prompt intervention by the Independent Corrupt Practices and other Related Offenses Commission (ICPC).
Prior to the ICPC intervention, the company, through newspaper advertorials, had raked in the huge sum by offering job seekers mouth-watering remunerations through internship with foreign multinational companies and manufacturing industries.
ICPC in a statement yesterday in Abuja by its Media Consultant, Folu Olamiti, said that many applicants had rushed to apply, each paying the sum of N3, 500 demanded as non-refundable fee.
FBIL initially succeeded in enticing desperate job applicants by claiming that it was in partnership with the then Federal Ministries of Power, Youths & Sports Development and that of Trade and Investment to arrange the recruitment of Nigerian youths for international job opportunities.
The company, however, ran out of luck when the former Ministry of Youths Development disassociated itself from the antics of FBIL on job offers and published a disclaimer in some national dailies, which eventually attracted the attention of ICPC.
Findings have revealed that although the Federal Ministry of Power appointed the MD/CEO of FBIL, Mr Kelvin Asogwa its Consultant to undertake and drive its initiative for building the capacity of youths in six geo-political zones of the federation, it was never part of the plan to recruit and collect monies from applicants for unverified international job offers.
According to ICPC, the Federal Ministry of Power in its disclaimer had stated that it never authorised FBIL to advertise and charge fees from Nigerian youths on the initial assignment given to it.
The Ministry insisted that there was no communication from it to other Ministries who were listed as partners in the newspaper advertorial.
Consequently, the commission decided to freeze the account of FBIL after they had agreed to refund the monies it collected to affected applicants through ICPC Recovery account.
ICPC has advised affected applicants "to make formal written request for the refund of the fees which they had paid into the company's First Bank Plc account Number 2027076297 by letter addressed to the Chairman (Attention: Head, FIU), ICPC, Plot 802, Central Business District, Abuja or send an email to [email protected] stating their full names, address, bank account and BVN numbers, telephone numbers and amounts paid.
"They should get further details through its website: www.icpc.gov.ng where the list of those applicants who paid has been posted," the statement added.
However, the ICPC advised government Ministries or Agencies to always follow due process in appointing Consultants for specific jobs and to closely vet their backgrounds to avoid embarrassment involving raising of funds from desperate job-seekers.