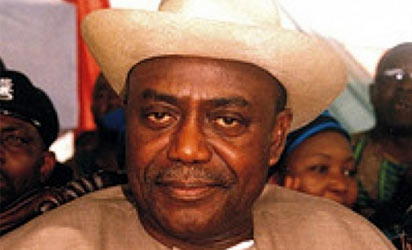 Former governor of Rivers State, Dr. Peter Odili, has denied reports that a former Minister of State for Finance, Mr Bashir Yuguda, gave him N100 million out of the money collected from the former National Security Adviser, Col. Sambo Dasuki (retd).
In a statement yesterday, Dr Odili said he never had any dealings with the former National Security Adviser or Mr Yuguda, so the issue of collecting N100 million does not arise.
He explained: "As part of preparations towards the 2015 election, the PDP set up contact and mobilisation committees across the six geo- political zones and I was appointed the Chairman of the South-South mobilisation committee.
"Consequent upon this, the party, not the former NSA or Yuguda, gave the South-South Committee, through me,  the sum of N100 million along with other zonal Chairmen, at the house of the National Chairman, Dr. Adamu Mu'azu, for the assignment. This amount was subsequently disbursed to the relevant party members from the zone for the assignment given by the party. I have the appointment letter and terms of reference, minutes of all the meetings, signatures of all the members and the report of the zonal committee, which was duly submitted to the Party Leader.
"I reiterate for the purpose of emphasis, that I had no dealings with the former NSA, neither did I collect any money from Yuguda. I challenge anyone who has any contrary evidence to produce it.
"I decided to personally sign this rebuttal because over the years, I had ignored various spurious and patently false reports against me because I knew that at the fullness of time, the truth would surely prevail.
"I would have similarly ignored this recent falsehood attributed to Mr Yuguda but for the fact that the uninformed are beginning to latch on this long-held false and tendentious narrative, hence my decision to rebut this with all vehemence."