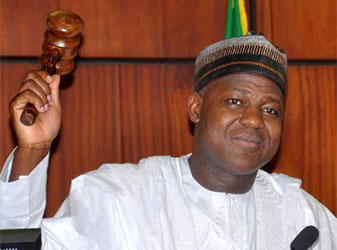 Speaker of the House of Representatives, Hon. Yakubu Dogara after inauguration, yesterday. Photos: Olugbemiga Olamikan/
By Turaki Adamu Hassan
December 26, the day after Christmas, is  also the 48th birthday of Rt. Hon. Yakubu Dogara, Speaker of the House of Representatives.
Born  in 1967 in Tafawa Balewa Province of Bauchi State, Dogara rose from a very humble background in that rural community where Nigeria's first and only Prime Minister Sir Abubakar Tafawa Balewa came   from.
He was first elected into the House of Representatives in 2007 from one of the most diverse constituencies  in the country with Christians and Moslems, and many ethnic groups co-existing. Yet, within  eight years, he has been able to win the confidence of all segments of the people  whose lives have been touched by him.
Close associates and family members would   say  he never struggled for anything in life. While he acknowledges God's divine favour over his life since childhood, Dogara never took it for granted that this divine grace may abound.
It takes only a courageous person like Dogara who, even though  comes from a constituency that was   a stronghold of the then ruling People's Democratic Party (PDP), and without the support of his governor, defected to a newly formed opposition political party, the All Progressives Congress (APC).
Many friends and associates came down hard on him as a result of that singular, far-sighted decision.
However, he remained resolute knowing fully well that the era of change was beckoning. He would go on to record a landslide victory on March 28.
His election as Speaker was not surprising to those of us who are close   to him. Whether friends or foes, or even his worst critics would admit, he is an embodiment of leadership.
To him, public office is never to be used for personal elevation, or pre-emptive and prebendal accumulation of wealth but   a call to duty, to serve God and country.
Whether in public or private, I always   see a man who is in pains. His angst  is not personal because he is a contented man. He has got what it takes to live a comfortable life, but his pains stem  from the fact that, despite being blessed with abundant natural and human resources, Nigeria, our beloved country, has not been able to provide basic social services to its citizens-as a result of which a vast population of the people is facing existential threat.
His dream  is that sooner  than later, a better Nigeria will emerge where both the haves and the haves not will have a place that will accommodate them in the system.
The Speaker  strongly believes that a system is evolving where the people will be the  centre of governance and that democracy in Nigeria will soon be able to deliver its promises to the people.
Already, Nigerians have begun to see the immense leadership qualities in him as the House has since gone far with its legislative functions and even set record of legislation on December 10 when not fewer than 130 bills were presented for first reading. Today, over 300 bills have been introduced in the green chamber and are at various stages of legislation. The House is cleaning up Nigeria's statute books as some of the nation's extant laws are 100 years old.
Worth mentioning here is his rejection of N500 million offer to defect back to  an opposition party.
Indeed, it takes more than enough courage for anyone to resist the temptation  to be induced or to enrich oneself in a society where majority of the ruling class are in competition to amass wealth  while the mass of the people are languishing in abject poverty and deprivation.
Gentle and peaceful to a fault but hard as steel, the Speaker is   too generous; yet unassuming and exceptionally intelligent and a natural orator. For anyone who knows Dogara, these things are easily discernible about his character-humility, intellect, courage and a calm spirit.
These same qualities were said of Sir Abubakar Tafawa Balewa of blessed memory and today Dogara is following in his footprints.
To this young gentleman, a lawyer of high repute, erudite scholar,   family man and a devote Christian,   I say a happy 48th birthday and wish him many happy returns of the day.
*Hassan is Special Adviser on Media and Public Affairs to the Speaker.