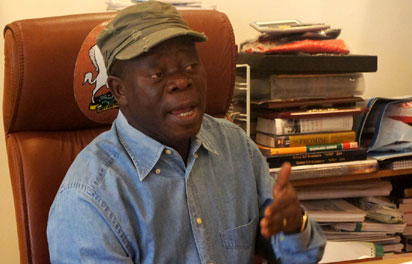 Oshiomhole
By Gabriel Enogholase
BENIN—CONTROVERSY has trailed the administration of local governments in Edo State following the resolution of the state House of Assembly to reinstate the suspended Akoko-Edo Local Government Area  chairman, Mr. Folorunsho Akerejola and a recent advertorial, setting up a commission of inquiry to investigate him and other four suspended council chairmen.
It will be recalled that the state House of Assembly while extending the suspension of the four other council chairmen by two months recalled Mr. Akerejola in what critics described as suspicious circumstances.
One of the affected council chairmen whose suspension was extended by two months, Mr. Osaro Obazee of Oredo Local Government,  had last week, expressed dissatisfaction over the entire scenario, saying that they were all suspended on the same reasons including inability to pay workers but one of them was recalled while others had their suspension extended by two months.
An indigene of Akoko Edo council,  Mr. Samuel Oyewole, while reacting to Akerejola's recall, said: "The jubilation in Akoko-Edo prior to the recall and the speed with which Akerejola resumed office simply tells you that it was a bought resolution which gave them inkling to the outcome of the House decision.
"Four persons were earlier suspended but the last person who was suspended was recalled before others. Isn't that an abnormal case? What happened and why did the House separate him from the others? Why was the chairman, House Committee on Information, Chris Okaeben, suspended during the course of the investigation as it concerns Akoko-Edo?
"For the avoidance of doubt, we have the entire details of what transpired, how, where and when. All those involved in the 'arrangee' and 'negotiated' recall should not sleep because they just murdered sleep. We shall do everything possible to recover whatever, and from those who benefited from the tarring of our roads in Akoko-Edo.
"All detailed information have been processed and same will be forward to Governor Adams Oshiomhole to behold the shameful outing at a time we are supposed to join President Muhammadu Buhari in his anti-corruption campaign."