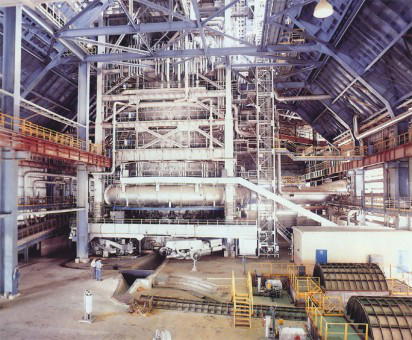 By Boluwaji Obahopo
LOKOJA—Minister of Solid Minerals, Dr. Kayode Fayemi, has said that President Muhammadu Buhari is very passionate about the completion and effective operation of the Ajaokuta Steel Company, located in Kogi state.
Fayemi who stated this yesterday in Ajaokuta during a one day official visit to the company, said the new government is taking a holistic look at the company to ensure that the steel complex works for the benefit of Nigerians.
"I want to let you know that the President is very passionate about the Ajaokuta steel company. We will take a look at the company holistically with a view of making it work for the benefits of Nigerians.
"We are looking at the entire steel complex. We are not going to segment the plant. We are told that the captive power plant, has been reactivated. After taking the one needed by the company, we will be happy if Kogi and its environs could benefit from the remaining Megawatt", Fayemi stressed.
The sole Administrator of the company, Isah Joseph Onobere, had earlier said that since the determination of the Russian contract, the original designers of the company, in 1994, no significant progress was made in the fortunes of the company.
Onobere called on the FG to ensure the timely completion of the company, saying that the minister's visit after few months in office, is a clear demonstration of government's good intention to complete the steel plant.
He described the much taunted obsolete nature of the technology adopted by the Ajaokuta steel company as borne largely out of ignorance and campaign of calumny against the Nigerian state, "The campaign is to ensure that the company perpetually remain a dumping ground for steel products from the developed nations.
"I commended the workers of the company for there resilience. They have shown uncommon patriotism in defending and protecting the steel plant equipment and facilities in the last 21 years."
Also speaking, representative of the Iron and Steel Senior Staff Association of Nigeria, ISSSAN, and Steel and Engineering Workers Union of Nigeria, SEWUN; said no nation can attain economic stability, real industrial and technological advancement without massive investment in the steel sector.
Comrade Bello Itopa who spoke on behalf of the duo bodies, said the greatest gift the Federal Government can give the country is to 'emancipate its citizens from economic slavery".