Gusau (Zamfara) – The Eze Igbo of Zamfara, Igwe Egbuna Obijiyaku, has condemned the agitation for a Biafran nation, noting that those behind the agitation are on their own.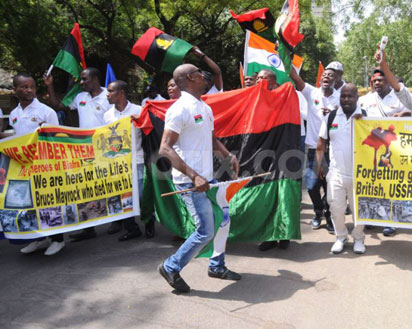 Obijiyaku who spoke in an interview with the News Agency of Nigeria (NAN) on Friday in Gusau, said the agitators were not representing the interest of Igbo people.
"Nigeria is a secular and blessed country and despite our differences in terms of cultural, religious, regional and political affiliations, we have been together over a long period of time.
"Therefore for somebody to start agitating for a break-up now, is not going to be possible.
"Despite our differences, we need to cooperate with each other to progress, so any body trying to deceive us with unnecessary agitations will not succeed," he said.
He appealed to Igbos to ignore such unlawful agitation and cooperate with government for the progress of Nigeria.
"On behalf of the entire Igbo community in Zamfara, in line with the 19 Northern states Igbo association, we are totally against that agitations and we are not part of it,'' he added.