By Henry Umoru
ABUJA— CHAIRMAN, Senate Committee on Security and Intelligence in the 7th Senate, Senator Mohammed Magoro, and a member of the committee, Senator Boluwaji Kunlere, yesterday, disagreed sharply with Senate President Bukola Saraki, who attributed the ongoing and messy arms deal probe to poor oversight function from the last Senate.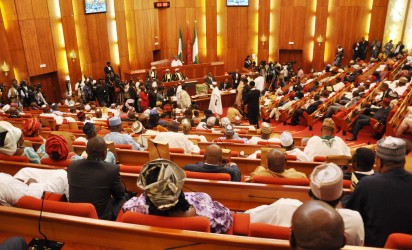 Magoro said his committee carried out effective oversight functions, adding, however, that such funds and expenditure in the present $2.1 billion arms deal were never presented before his committee for scrutiny.
Corroborating Magoro, a member of the committee in the 7th Senate, Senator Kunlere, said  such funds, as being exposed by the former National Security Adviser, Col. Sambo Dasuki (retd), were never part of the budget that came under the security of the Senate committee.
In different text messages to Vanguard, they said the committee carried out its functions according to what was presented before it.
Magoro, who represented Kebbi South in the 7th Senate, said: "I did not follow the plenary session of the Senate when the Senate President raised that observation as such I am not aware of the alleged remark by the Senate President. However, committees carry out oversight on the expenditure of the appropriated money to an agency.
"Submissions of the budget made to our committee covered office of the National Security Adviser, ONSA; Department of State Services, DSS and NIA concerning their offices and pepartments only, nothing to do with procument for the Armed Forces. You can direct your question to perhaps chairmen of Defence & Army/Navy/and Air Force. I hope I have explained enough to you the process, once more thanks.''
Senator Kunlere, who represented Ondo South in the 7th Senate, told Vanguard that the committee, in the course of its oversight function, went to Borno, Yobe and Adamawa states, among others, noting that the General Sani Abacha's loot was never presented before the committee for scrutiny.
"Those funds were not part of the budget that came under the scrutiny of the Senate Committee on National Security and Intelligence," he stressed.
Senate President Saraki, had last Tuesday, at a plenary blamed the uncovered fraud in the arms deal, during the immediate past administration of Goodluck Jonathan, to the failure of National Assembly to carry out its proper oversight functions.
Saraki, who had insisted that the legislature, which would have carried out oversight to ensure that the money appropriated for arms purchase was strictly used for the purpose it was meant for, failed in such responsibility, however vowed that the present National Assembly, which he heads, would not allow such development to recur.
The Senate President in his remarks during debate on a motion,titled: "Abandonment of Projects:A menace to development in Nigeria, sponsored by Senator Suleiman Nazif, APC, Bauchi North, had said, "This issue about Dasuki and the arms deal is a failure of the lack of oversight on the part of the National Assembly.
" If we had done our job, this would not have happened. I think we shied away from our responsibility. This issue is an indictment of the National Assembly. It is our duty to ensure that projects are not abandoned and that funds appropriated are well used. This 8th Assembly must play it's role."