By Chidi Nkwopara, Kingsley Omonobi, Wole Mosadomi, Omeiza Ajayi, Francis Igata, Ugochukwu Alaribe, Egufe Yafugborhi & Chimaobi Nwaiwu
ABUJA—THE three-week-long pro-Biafra protests turned bloody, yesterday, as the Joint Military Task Force (JTF) killed nine of the protesters and injured 18 in Onitsha, the commercial city of Anambra State.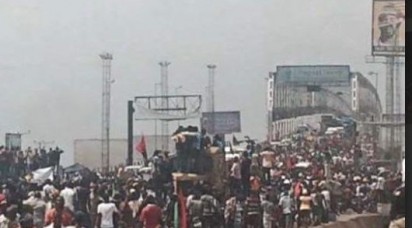 Irked by the stubborn disposition of the pro- Biafra agitators, who blocked the Niger Bridge Head and refused to give way to motorists, the JTF comprising Army, Navy, Police and Civil Defence troops, yesterday  afternoon, opened fire at protesting members of Indigenous People of Biafra, IPOB, and  Movement for the Actualisation of the Sovereign State of Biafra, MASSOB, killing nine people and injuring 18. Five people were killed  at Niger Bridge Head while three were killed at Obodoukwu Road. A suya (barbecue meat) seller said to have been hit by a stray bullet died instantly. The protesters were having a peaceful procession across South East states and had vowed to continue their blockage of the bridge for three days until detained Director of Radio Biafra, Mr. Nnamdi Kanu is released.
Miscreants, on hearing that some people had been shot dead by the JTF, started another protest, marched to the Central mosque near Onitsha Main Market and set it ablaze. A Hilux pick-up van with Federal Government number plate was also burnt when the JTF held motorists and commuters hostage at Upper Iweka with sporadic shootings that had never been witnessed before in Onitsha.
Despite losing  two men, we  didn't attack  protesters –  Police
The Anambra Police Command said, yesterday, that despite losing two of its men during the pro-Biafra protests in Onitsha, the command never retaliated.
The command's Public Relations Officer, PPRO, Mr. Ali Okechukwu, in an interview, faulted the allegation that Police fired at the protesters, adding that one of the policemen, a sergeant, was killed at Obodo Ukwu, while the other was killed at Eze Iweka road.
He said that following the problem in Onitsha, police kept vigil to ensure that peace was maintained and totally denied police involvement in the bloody riot that led to the death of about nine people.
"We did not fire a shot at anybody and even when our men were felled, we still did not retaliate," he said.
It was gathered that what led to yesterday's violence was an attempt by the JTF to reopen the blocked roads at the Bridge Head and at Upper Iweka road in the wee hours of Wednesday.
When the security operatives tried to open the roads,  it was learned, they met resistance from the protesters, who grounded Onitsha on Tuesday and ensured that no vehicle entered or left the commercial city.
How protests  turned bloody
The protesting IPOB members had blocked the Niger Bridge early Tuesday morning, thereby grounding vehicular movements in and out of Onitsha.  From Asaba, Delta State, many boarded speed boats provided by the Marine Police to get in and out of Onitsha.
The protest was, however, aggravated by shooting to death of five IPOB members who were observing their peaceful procession at the Niger Bridge Head against the continued detention of their leader, Mr. Nnamdi Kanu at about 1.30 am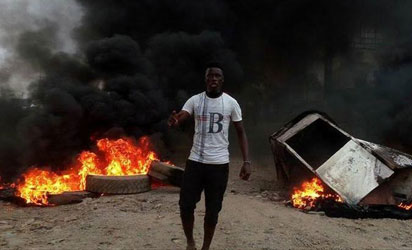 All the markets in Onitsha were shut around 12.30 pm, as thousands of traders in the markets and environs were seen scampering for safety as sporadic gunshots continued in many parts of the city.
The JTF, who could not disperse the protesters on Tuesday invaded the Niger Bridge at about 1.30 am, yesterday, and opened fire on the IPOB members who refused to leave the Niger Bridge, the gateway to the South East, killing six people including the suya seller said to have been hit by a stray bullet.
The killing of the protesters sparked off another protest by IPOB members who were joined by MASSOB members. They made bonfires along Onitsha-Owerri Road and Onitsha-Enugu Express way, forcing motorists coming in and out of Onitsha from Enugu, Asaba and Owerri to be trapped.
A Vanguard reporter who went to Oba for an assignment was trapped at Oba junction, where he had to pay N3,000 from Oba Junction to Tarzan Junction, Onitsha, as over 2,000 vehicles coming into Onitsha were seen parked at the Oba Junction and refused entrance into Onitsha.
Commercial motorcyclists banned on the express roads by the state government made brisk business and had a field day as it was the only means of coming into and out of Onitsha.
Military should  not push us into violence — IPOB
Speaking with newsmen, National coordinator of IPOB, Mr. Chidiebere Onwudiwe, alleged that five of their members were killed while 18 people sustained injuries, adding that he learned that more people were killed in the sporadic shooting by the JTF at Upper Iweka.
"The Joint Military Task Force could not disperse the protesters on Tuesday, and they went to regroup and invaded our members who were observing our three-day peaceful protest at the Niger Bridge at about 1.30 am Wednesday morning. We warned that they should not push us to be violent because we have people that can match them violence for violence," he said.
Vanguard gathered that Chief Rommy Ezeonwuka, the Ogirisi Igbo, a respected Igbo leader, who has the loyalty of both MASSOB and IPOB youths was attacked at about 1.35 am when he went to talk to the protesting youths at the Niger Bridge Head, after some Igbo leaders had pleaded with him to speak with the protesters.
Speaking in an interview at his house in Oba, Chief Ezeonwuka said: "The dangerous game being played by the Federal Government of Nigeria in the continued incarceration of Nnamdi Kanu will end up being an expensive joke and dangerous mistake.
"I am calling on Igbo elite to speak with one voice for immediate release of Nnamdi Kanu before the youths turn their peaceful protest to violent protest. The protest started with free flow of traffic, but today it has advanced to road block," he said.
The Campaign for Democracy, CD, South East branch, also condemned the killing of the protesters. Chairman of CD, South East branch, Dede Uzor A Uzor, said: "IPOB has been peaceful in their protest and there should not be any reason to open fire on them by security agencies. We are also calling for the unconditional release of Nnamdi Kanu and other IPOB and MASSOB members being incarcerated in various prisons and detention centres in the country, as they have not broken any law for protesting peacefully."
IG reads riot act, begins prosecution of protesters
However, the Inspector-General of Police, IGP Solomon Arase, has disclosed that no fewer than 137 protesters have been arrested and currently undergoing prosecution. The police boss spoke yesterday, when he visited the Ministry of Interior.
According to him, the suspects are all members of MASSOB and IPOB.
Arase, who also described Nigerians as lawless, said in as much as government respects the right of citizens to free expression, MASSOB and IPOB activists must stop threatening public peace or face the full wrath of the law.
His words: "What I can assure you is that we will not allow any group to disturb the peace of this country. We will clamp down on them, we will deal with them, we will prosecute them. Already, we have about 137 of them who are undergoing prosecution across the length and breadth of the South East and we will continue to do that.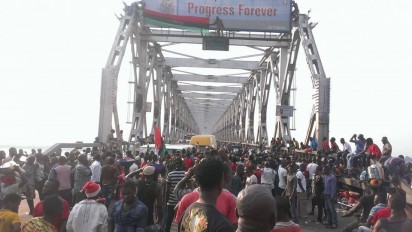 "The latest manifestation of this threat is the attempt to block the Onitsha end of Niger Bridge on December 1, 2015, an action that caused major hardship to innocent and law abiding motorists and citizens. The act also occasioned serious dislocation of business activities."
Arase issued a stern warning to MASSOB and IPOB activists to stop threatening public peace or face the full weight of the law.
To maintain law and order, the IG in a statement by Acting ACP Olabisi Kolawole, directed  Assistant Inspectors–General of Police Zone 5, (Benin); Zone 6, (Calabar) and Zone 9 (Umuahia) and all Commissioners of Police in the affected states in the South East and neigbouring states "to henceforth maximally exercise their statutory mandate in relation to prevention and disruption of any gathering that threatens public order and national cohesion. Any person or group of persons so arrested in furtherance to the enforcement of this order will be made to face the full wrath of the law".
The IGP advised parents and guardians to call their children and wards to order as the patience of the Force was being stretched to the limit, adding that  "no individual or group interest can override the interest of the nation and that democratic values provide for exploration of rule of law to advance any concern, not the resort to endless and misguided acts of brigandage, unless there is an ulterior motive as the extant instance tends to dictate."
Monarchs to the rescue
Disturbed by the growing protests, representatives of Northern States Council of Traditional Rulers and their South East counterparts met in Owerri, yesterday, to deliberate on the issue.
The visiting royal fathers from the North were led by the Etsu Nupe, His Royal Highness, Alhaji Yahaya Abubakar.
Other traditional rulers that made the trip included the Coordinating Committee Chairman of Northern States Council of Traditional Rulers and the Emir of Gumi, Justice Lawal Aliyu Gumi; the Emir of Lafia, Alhaji Mustapha Agwai, who is the Chairman of Nasarawa State Council of Traditional Rulers; Emir of Fika, Alhaji Abali Mohammadu, Chairman of Yobe State Council of Traditional Rulers, and Gbong Gwom Jos, Da Jacob Buba Gyang, Chairman of Plateau State Council of Traditional Rulers.
The South-East Traditional Rulers were led to the meeting by the Chairman of the Council, Eze Ebere Dick, who is also the Chairman of the Abia State Council of Traditional Rulers; Obi of Onitsha, Igwe Nnaemeka Alfred Achebe, Chairman of Anambra State Council of Traditional Rulers; Eze Agunwa Ohiri, Chairman Imo State Council of Traditional Rulers and Eze Dr. Agom Eze, Chairman, Ebonyi State Council of Traditional Rulers.
Speaking when the group paid a courtesy call on Governor Rochas Okorocha at the Government House, Owerri, the Etsu Nupe and leader of the delegation, Alhaji Yahaya Abubakar, explained that they were in the state to meet with the South East Traditional Council, at the instance of His Eminence, Sultan of Sokoto, Alhaji Sa'ad Abubakar, who is Chairman of the Northern Council of Traditional Rulers.
"We are principally in Imo to discuss the issue of the current and escalating agitation by Pro-Biafra groups in the South-East geo-political zone and to find the reasons for this renewed agitations and how the situation can be arrested", Alhaji Abubakar said.
He also disclosed that they are in Imo to find out the truth about the rumour that there was crises in the leadership of the South East Council of Traditional Rulers.
While saying that they would go back home to relate their findings to their colleagues, the royal fathers also remarked that  protection of the nation's unity was paramount.
Speaking also, Chairman of the South East Traditional Council, Eze Ebere Dick, promised that they would work together with the South East governors to amicably resolve the MASSOB and IPOB issues.
Responding, Governor Okorocha commended the royal fathers for the meeting, which he described as timely and advised them too to "make such meetings regular in the interest of the nation. There is need for traditional rulers across the nation to be meeting regularly, to help in curbing religious and ethnic crises, mostly caused or sponsored by politicians for political gains. It is also important that our traditional rulers should resist the temptation of entering into the murky waters of Nigerian politics."
On the pro-Biafra protests and agitations, Governor Okorocha informed that the South-East governors and stakeholders in the region had set up a committee to look into the issue and proffer quick solution.
The governor also appealed to the Northern traditional rulers to, as a  matter of urgency, address the issue of the activities of Fulani herdsmen within the South-East because their activities constitute great danger to lives and properties of the people of the area.
Obiano sues for peace
Governor Willie Obiano of Anambra State, last night, in a broadcast appealed to the protesters to maintain peace and resist attempt by hoodlums to take advantage of the situation to destabilize the state.
The governor's address read: "My beloved people of Anambra State, I wish to address you on the on-going protest staged in Onitsha by the members of the Indigenous People of Biafra and MASSOB.
"The government of Anambra State has been monitoring developments and is greatly concerned about the security of lives and property of residents and visitors to the state. As your Governor and Chief Security Officer of the state, I am compelled to act to avert any likely breakdown of law and order. In all situations, the preservation of human life comes first and I am determined to enforce that.
"Since the inception of my administration, we have made the security of lives and property our priority and we are not going to compromise on that. I, therefore, sincerely appeal to members of the IPOB, MASSOB and other aggrieved groups and individuals to maintain the peace and resist any attempt by hoodlums to take advantage of the situation and destabilize any part of Anambra State.
"I am in constant touch with all the security agencies in the state to ensure that what has otherwise been a peaceful protest is not hijacked by trouble makers. All mischief makers are hereby warned to keep off as we will not tolerate any breach of peace under any guise or pretext. You are seriously warned! I therefore wish to assure Ndi Anambra and all visitors to the state to go about their normal businesses peacefully as the security agencies are on top of the situation to preserve law and order."
We didn't set Onitsha Central Mosque ablaze – IPOB, MASSOB
Meanwhile, the agitating groups have disassociated themselves from acts of arson and violence that culminated in the razing down of Onitsha Central Mosque and burning of some vehicles.
MASSOB Acting Leader, Uchenna Madu, in a statement said: "The setting of Ontisha Central Mosque and vehicles ablaze and making of bonfires, which depict violence are not done by the members of IPOB or MASSOB under my leadership.
"This unwarranted acts of violence are perfected by hoodlums sponsored by agents of the Federal Government to create impression that non-violence and peaceful pro-Biafra groups have turned violent in our agitation for Biafra. Our oppressors are no longer comfortable. There is no evidence of terrorism in our protest. How can we resort to violence now that we're told that the presidency is about negotiating with leaders of pro-Biafra group?
"With today's killing of our members and injuring many with bullet shots,we are no longer comfortable with the presidency's move for dialogue. Federal Government's move for dialogue is hypocritical and deceitful. Any Igbo group, organization and persons negotiating, meeting or dialoguing with the presidency on our behalf without our consent or mandate should stop now.
"MASSOB led by Uchenna Madu and IPOB led by Nnamdi Kanu have never mandated any person to negotiate for us. Even in this persecution, arrest, killings, clampdown, suppression against us by Nigeria Government, we shall continue and intensify our non-violence agitation for Biafra. For Nigeria to release their Armed Forces against non-violent, defenceless Biafra agitators shows their wickedness and the devilish mind of President Muhammad Buhari against our people."
Don't use force
Following the recent development, Igbo living in Niger State have urged the Federal Government not to use force on the agitators for Biafra but rather should dialogue with them in order not to further compound the insecurity that has already enveloped many parts of the country.
While suggeting dialogue as a means of settling the crisis which is daily building up across the country, the Niger State Chapter of Ohanaeze Ndigbo said it is not in any way in support of any move that could lead to war in the country.
Subscribe for latest Videos