*Finance Ministry takes lion share of N1.5trn
By Emeka Anaeto, Economy Editor
Lagos— Further details emerging from the recently presented 2016 budget have shown that the executive arm of the government would spend the lion share of N5.87 trillion, or about 96.5 per cent of the total N6.1 trillion about N205 billion or 3.5 per cent to the other arms of government, with the Legislature and the Judiciary, spending N115 billion and N90 billion respectively.
The breakdown of the budget also indicates that the government intends to spend N39 billion in running the Office of the President with major allocations going to car purchase at N3.9 billion and another N189 million to change tyres for some specified vehicles in the Presidency.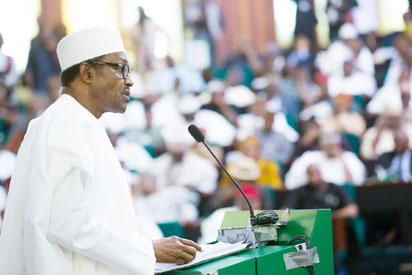 Some details provided indicate that the vehicles that will gulp the budgeted sum for tyres include Mercedes Benz bullet proof and plain, Toyota cars, trucks Land Cruiser SUV, Prado SUV, Hilux, Peugeot 607 and 406, BMW trucks, ambulances as well as utility and operational vehicles.
Also, the Presidency will spend about N1.4 billion on travels during the fiscal year, according to the budgetary provisions.
The budget breakdown shows that some super ministries could be identified by the relative amounts allocated to them with Ministry of Finance taking the lion share of N1.5 trillion followed by Budget and National Planning with N1.15 trillion.
Buhari to spend more than Jonathan on Presidential Villa
In 2014, Jonathan spent N12.2 billion on the State House, while in 2015, the government spent N6.6 billion for the presidential office, amid dwindling revenue occasioned by sliding oil prices.
The costs cover the State House headquarters, the president's office and the office of Vice President Yemi Osinbajo. They also cover the budgets of the State House medical centre and the Lagos Liaison office.
One of the most outstanding State House spendings in 2016 will be the purchase of BMW saloon cars at N3.63 billion. It is not clear yet what purpose the cars would serve.
The State House budget also contains a repeat of projects the Jonathan administration repeatedly allocated funds for. An example is the purchase of computers, which has featured in budgets of previous government each year.
In 2016, the State House will spend N27. 5 million on computers, while N268.9 will finance computer software acquisition.
Aso Rock will spend N764.7 million on recreational activities.
The installation of electrical lighting and fittings, which received substantial allocations in 2014 and 2015, will gulp N618.6 million next year.
The budgets are subject to the approval of the National Assembly.
Presidential food.
Other big spenders are Ministry of Interior with N498.5 billion, Education ministry is to spend N483.7 billion while the amalgamated Ministry of Works, Power and Housing is to spend N467.6 billion.