Ex-Chairman of Daar Communication, Chief Raymond Dokpesi, has been released by the Economic and Financial Crimes Commission, EFCC, after being interrogated for three days.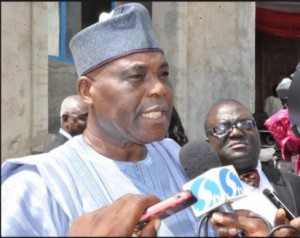 Chief Dokpesi was arrested and interrogated on allegations of complicity in the $2.1bn scam brought against former National Security Adviser, Col Sambo Dasuki.
Speaking to newsmen after his release, Dokpesi said "It was a change of environment; it was quite peaceful, quite okay."
"I was granted bail yesterday, where they asked me to get two Directors of the federal government. I'm to also deposit my passport, but my lawyer was not available, and I said that I was not going to sign until he was".
"But then, I think what they said was that the allegation was alleged conspiracy, the issuance, the transfer of funds, what do they call it?… money laundering and then misappropriation of public funds".
"But I'm a loyal Nigerian citizen; I'm a patriotic Nigerian citizen. I have no problem and I said they are free. I would still go back. I am strong in spirit; I'm toughened."