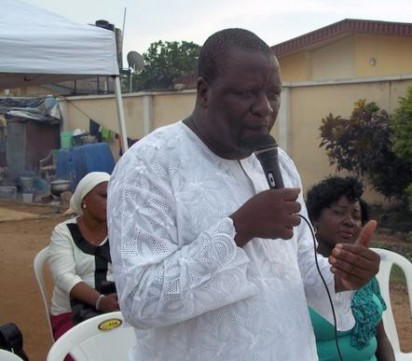 Bamigbetan
The Lagos State Government has called on all communities in the Local Governments and Local Council Development Areas, LCDAs, of the state to cooperate with contractors who will execute 114 roads approved for construction by Governor Akinwunmi Ambode in all councils.
The Special Adviser to the Governor on Communities and Communications, Kehinde Bamigbetan, spoke at the weekend at Lagos House Annex, Alausa Ikeja, during an Ownership workshop which was organized for the Community Development Associations (CDAs) and other stakeholders in the State.
Bamigbetan charged community leaders to take charge of projects in their constituencies by asking questions where necessary, facilitate a cordial relationship between members of their community and contractors, as well as providing support to facilitate speedy completion of projects domiciled in their areas.
He disclosed that the construction of 114 roads would commence in the first quarter of 2016, expressing optimism that the road construction projects would, in line with Ambode's vision, enhance commercial activities in all the benefitting communities.
The Chairman of the body of Executive Secretaries, Kolade Alabi, noted that the roads project would meet the needs of the masses in the society, adding that it would also reduce the travel time from one area of the State to the other.
Alabi implored all CDAs to ensure that they monitor and protect the projects when the work commenced, adding that it was their project and that they should give room for maximum cooperation between the contractors and the people in their various communities.
"On our own part, we assured the Community Development Associations in the State of maximum cooperation and other relevant stakeholders of these project and we will not compromise the standard of the project,'' he said.
Alabi, however, commended the initiative of Ambode on the constructions of two roads per LG and LCDA in the State, saying that the initiative underscored the governor's style of governance, adding that the 114 road projects would provide the test case for Ambode's policy of inclusive governance which he promised during his manifesto.
In his paper, the Senior Special Assistant to Governor on Community Affairs, Alhaji Tajudeen Quadri said completion of the 114 roads; they would enhance the living standard of the people and also improve the socio-economic life in their domains.
"All the CDAs should ensure that they also participate actively in the projects because they are the beneficiaries of the projects when completed. The CDAs' monitoring of the projects is a tool for self-development as active participation will enhance prioritizing community projects," he said.
The workshop was attended by community leaders, market women, traders and artisans drawn from all the Local Governments within the state.