Mosadoluwa Adegboye a.k.a Mosa may not be a popular face  among music lovers in Nigeria, but his name and soulful voice will definitely strike a chord with those who love to listen to RnB music.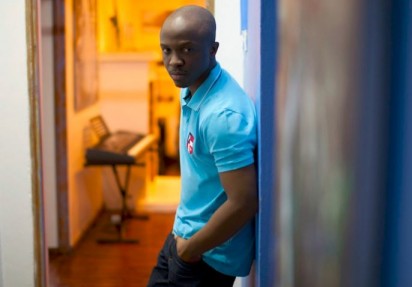 He debuted in the country's music scene in 2006, after he arranged and produced T.Y Bello's classic album, 'Greenland.'  Mosa has added another feather to his cap as he has switched from producing to singing, with some of his songs enjoying massive airplay.
His latest single, " Femi", a love song, which is due to hit the airwaves on the 30th of November. In this encounter, he talks about his evolution as a music producer, songwriter and a singer, explaining why he decided to become a singer.
By Benjamin Njoku
ARE you back in the country now?
Yes, I'm back in Nigeria. I was initially living in London but now, I have relocated to Nigeria. My influences are mainly people from outside the country. My new single which will hit airwaves from 30th of November is titled, "Femi." The song is about a guy who is trying to propose to his girl friend. His name is Femi and he's saying to his girl friend, please will you marry me! I haven't properly delved into playing our kind of music. But I am trying my best to do. My previous songs have western influences. I started out as a producer and I have produced great songs for some top Nigerian singers.
But are you thinking of working with some producers who will help infuse local sounds into your music?
My new single, "Femi" is just to prepare the ground for me. The style is a bit Nigerian. If I'm coming out with a few new singles in future, I probably will commission some songwriters to write the lyrics as well as teach me how to do the delivery.
Western influences
I am Yoruba by birth, but I have more of western influences in my works. I need some professionals to put me through in terms of localizing my music.
Was it deliberate that you have create the sound now that you storming the nation's music scene?
I have released three singles before now, and they were 100 per cent western. So, I have that crowd already-people who like RnB, and foreign pop music. But I'm trying to broaden my music because present-day Nigerians listen to Afro pop and Afro-beat. Yes, I would say, it's deliberate. I trying to reach out to people and to put a face to my music. Many people don't know I am a Nigerian. When the listen to my songs on radio stations, they commend the songs, but they don't know the artiste that played the songs.
You said, you started out as a producer, why are you handling the microphone now?
I had it in me to be a singer. But I didn't want to lunch out immediately because I am an introvert.
I like to keep to myself a lot. Interestingly, a lot of people don't know the face.  I trying to put a face to the name, Mosa. Many people know the name, Mosa, but they can't place the face. I am going to be releasing more videos and singles, so that my fans can be familiar with my face.
How was it like working from behind?
It's fun, that's what I do naturally. I enjoy directing bcause it's the backbone of music. When you watch a film, people only meet the main actors, like RMD, Genevieve Nnaji, Omotola among others. But the directors and the producers are not visible. I have the talented to sing and I think I wanted to give it a shot.
You produced Tiwa Savage two albums. How was it working with her?
It was fun. She's like my sister now. I don't see her as my client any more. The lyrics of the songs were awesome. She brought her style into the songs just as I brought mine too. I enjoy collaborating. I have produced for Waje, T Y Bello, Chidinma and other artistes.
What's the strength of your music?
What I personally believed as the strongest part of my music is the lyrics. A lot of people say, Nigerians don't like to listen to lyrics. Most sounds in lyrics don't stand out in Nigeria, but unfortunately, some of the most touching love and inspirational songs you listen to, have bad lyrics. The feedback I get from people when they listen to my music is that the lyrics are very relate-able.
This is because I don't write songs as if I am writing a song. I write my songs as if I am telling a story. What I believe in is that the music that would last as long as 20 years is music that is conveying a message to the people. Till date, we are still listening to Fela's music because of the message and its lyrics. His had a message and he didn't make music to earn his daily bread. A lot of artistes these days are making music mainly to survive. But they don't want to know whether their music would stand the taste of time.
Has it been an easy task switching from producing music to singing?
I have been producing music for 10 years now. It's been fun and I have enjoyed it. But I just feel, there is more I have to offer to the world. That's why I switched from  producing music to singing. I'm still breaking into the industry. When I debuted in the music scene, many knew me as a producer, nobody knew me then as an artiste. All I had was my CD which I took to the radio stations for airplay.
Who are your favourite artistes in Nigeria?
There are quite a few: Burner Boy, Wande Coal, Wizkid, Davido, Asha, Don Jazzy, Tiwa Savage among others.
You studied Audio-Engineering in the United Kingdom. Was it what you wanted to study in the university?
My dad is an architect. He wanted me to be an architect as well. So, I got admission into Kent University, in the UK to study Architecture. But I wasn't enjoying the course. I became miserable and wanted to abandon my studies. My dad kept encouraging me, but eventually, I dropped out.