Who is the unemployed Nigeria?
Male or female is he/she a university/polytechnic graduate ?  Just finished NYSC? Is he/she also a secondary school leaver?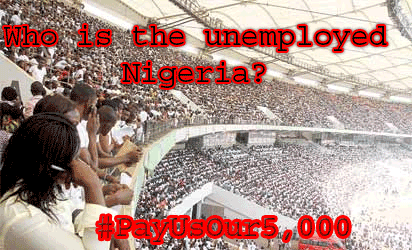 How about the many young lad/lass who just left a technical college or skills acquisition centre?
Does it include those just retrenched, as late as this month?
What of the Okada riders who no longer have motorcycles? Or conductors with no  'molue'/'danfo' to work with?
In short, what should be the criteria for determining who the unemployed Nigeria is?
PLS WRITE US AND HELP OUR GOVERNMENT DETERMINE WHO IS UNEMPLOYED AND IS DESERVING OF N5,000 PER MONTHS
SEND YOUR VIEWS TO [email protected]