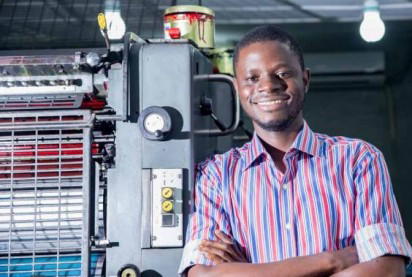 Oluyomi Ojo is the Founder/Chief Executive Officer of Nigeria's first online print shop, Printivo.com. Founded in 2014, Printivo's digital printing innovations have earned it several industry recognitions. These include N2 million from the Etisalat EasyBusinessmillionnaire hunt grant for SMEs and winner of start-up of the year 2014 award by the Creative Entrepreneur Association of Nigeria Creative Industries Award.
Printivo was also represented in the 2014 online printing Symposium that took place in Germany. In this interview with Jonah Nwokpoku, he explained that Pintivo.com was inspired by the need to drive the growth of Small and Medium Enterprise, SMEs in Nigeria.  Excerpts
What is Printivo?
Printivo is an online print shop. It is a one-stop shop for your basic printing needs. Take for instance you are starting a business and needs business cards, just log on to Printivo.com, pick a template you like and edit in real time to your taste, choose the quantity you want and then submit it and pay with your credit card. We will print and ship to your door step anywhere you are in Nigeria.
Printivo goes beyond business cards, we also do letterheads, envelopes, flyers, we are also moving into customised kits now and we are also adding large formats products like banners, wedding gifts etc. So people now have the power to sit in the comfort of their offices and homes and place orders on Printivo.com for print products and Printivo will ship the products within three days if the orders are coming from Lagos and five days outside Lagos.
What inspired you into this line of business?
I have had several years of experience in advertising and graphic designs and one of the major problems we had then was that we could not work for SMEs. This was always because of the quantity they wanted to print, their budgets and the kinds of projects that they had. Take for example someone wants to start a small business, all he needs is a business card with a simple logo, maybe 200 copies and his entire budget is not even up to N20,000.
So usually bigger printing and design companies will turn down such projects because they consider that the time that would have been spent on such projects would be better used for blue-chip company projects. So we saw this opportunity and decided to launch a solution for small scale businesses. This does not mean that we cannot attend to the big companies but we have special tailored solutions for SMEs.
How relevant is your business model to the growth of SMEs and printing industry in Nigeria?
Every industry needs its own type of innovation. And what Printivo is bringing is innovation and technology to the printing industry. We believe that this will definitely revolutionise how Nigerians print. The culture of having to wait for days, low quality printing, the culture of having to go back and forth to print shops is what we are changing with Printivo.com. And the biggest winners will be the consumers and the printing industry.
The customers now have better and smarter option. Print in its own way adds tangibility to businesses. It gives you something to feel and touch about any business. Besides that, what we are doing is to boost the creative industry itself. We have things we are working on for graphic designers and people in the creative industry. Part of what we are doing now is to drive growth in the graphic design industry itself.
This is an industry that everyone has always overlooked. This is basically because it's a place you find a lot of freelancers and people that do not even have registered businesses. At the moment, no one is looking at the kind of growth that will be driven in that segment. In the next couple of years, we are looking at how what we are doing will have impact on SMEs, printing industry and eventually on the creative industry as a whole.
What we are doing does not mean that people will change the way they do business offline. It simply means that more growth will be driven via technology. The print industry as a whole is experiencing its largest form of technological innovation in its history.
How much technical knowledge does a user need to use the Printivo platform?
Any user of the platform only needs basic knowledge of computer. If one has ordered a product online before, it will not be a problem at all navigating through the platform. In case of designing one's item, what we have done is that we created thousands of templates, so that all you have to do is edit the template of your choice on the website. Basically, if one can use Microsoft word or operate a Facebook account, then that person would have no challenges using our solution.
What has been your experience over the past one year that you have been in business given the challenging business environment in Nigeria?
When we first started, adoption was a bit slow and difficult. People were sceptical that if they cannot see their print products, how are they going to trust the quality of the products? And that was where gaining trust became necessary. So we started telling our customers that if the product we give to them is not up to the standard they expect, we will take it from them and reprint at no cost.
And if you end up not liking it, we will refund your money. With such assurances, we were able to give them a sense of security and then they started ordering. And today, once you have ordered from us and have seen the kind of quality that Printivo offers, you always return.
How much do you think Nigeria loses to non adoption of current printing technology?
I may not be able to put a figure to it but from the statistics we have which says that Nigeria is a $200 million market, I think we are losing twice that for slow adoption of current printing technology which is what is driving sales and growth in other markets. However, Nigeria is also not extremely backward. If you look at print in Africa as a whole, we can conveniently say that Nigeria is one of the countries doing well. But there is always room for improvement. Right now we are one of the best print markets in Africa after South Africa and Egypt.
What are the greatest challenges you have encountered in this business? How can the industry surmount these challenges?
First and foremost, the first challenge an ecommerce business in Nigeria will face is logistics. There is no strong structured logistics in the country. So you are apparently having to build your own logistics system at least if not for every other city, you are going to build it for Lagos and probably outsource the rest.
But one of the challenges we had when we started that was peculiar to us when we started was outsourcing the larger part of our production unit. We were printing some in-house, but some were outsourced to some of our partners who were offering some of our services.
One of the toughest challenges became getting the quality we wanted and getting it in on schedule. And you know customers want the best print and want it on time and whether your partners share this vision remains a question and of course it is none of your customers' business.
So at the end of the day, we brought everything home. Since we started doing that, we were able to deliver the value that we stand for. Right now we control our entire value chain which is one of the best things that has happened to the business in recent times.