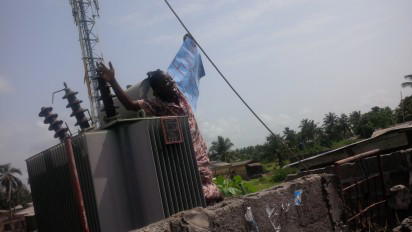 By Ikenna Asomba
Life for no fewer than 200, 000 residents residing in over 50 communities within the Gbaji-Seme Border axis of Badagry West Local Council Development Area of Lagos State, has been 16 years of untold hardship and endless wait without electricity.
Since 1999, when a devastating rainstorm wreaked havoc in the community, felling down electric polls which connected these communities to the national power grid, the Lagos State and Federal Government had apparently abandoned the residents to live in perpetual darkness.
The Gbaji-Seme area, is a border community that links Nigeria to her neighbouring Benin Republic.
Like Tincan/Apapa ports, like Gbaji-Seme Border
Like the Tincan Island, Apapa Ports, which yearly generate billions of naira for the Nigerian government, but with residents passing through hell, over the years, to access, because the dilapidated ports access roads had been left to degenerate, residents here in Gbaji-Seme Border area, are in limbo over when they will be connected back to the grid, despite the fact that this is Nigeria's highest revenue generating border, where the Nigerian Customs Service (NCS), rakes billions of naira, annually.
N23 billion in three years
For instance, in 2012, out of its N9.6 billion target for the year, the NCS at Seme Border Command, raked about N5.1 billion at the end of August 2012.
Of its N13 billion target set for 2013, Customs generated N8.48 billion between January and December, 2013.
Similarly, between January and December, 2014, the Seme Border Command generated N9.6 billion between
Barely one month to the end of 2015, it's not yet known what amount the NCS will put out in public to have generated. Although, its target for this year is N13 billion.
Going by the official statistics obtained by Vanguard, from 2012 to 2014, the Customs generated for the federal government, about N23 billion from the the Seme Border.
However, Vanguard gathered that the federal government may have generated over N115 billion from the Seme Border since 1999.
Killing the goose that lays the golden egg
Giving this staggering revenue statistics, residents who have continued to express worry over the perpetual darkness they have been subjected to over the last 16 years, however, described their plights as "killing the goose that lays the golden egg."
Bothered that several peaceful demonstrations embarked by them, as well as letters written to draw the attention of the Badagry West Council authorities, the Lagos State and Federal governments, had fallen on deaf hears, leaving them in dehumanizing conditions, youths from across the 50 communities, however, threatened to shut-down the Seme Border, if government fails to come to their aid soonest.
The Youths who spoke last Thursday, in Lagos, under the umbrella of Gbaji-Seme Border Youth Initiative, GSBYI, bared their minds over their plights, at a Press Conference/Summit tagged: "Charting a new course towards putting an end to the 16 years Darkness in Gbaji-Seme Border and ushering monumental development."
The event attracted from across the 50 communities no fewer than 5, 000 youths, religious and traditional leaders, who converged to discuss the way forward to ending the endless wait without electricity in their communities.
According to them, the humongous bills they had spent over the last 16 years, fueling power generating sets in their homes and business places were alarming, even as they lamented that the lack of electricity had forced many of them out of business.
Affected communities
Speaking to Vanguard, former President, Lagos State University Student Union Government (LASU-SUG) and Coordinator of GSBYI, Comrade Badaru Abdul-Basit, disclosed that some of the communities within the border axis that had lived without electricity over the last 16 years include: Gbaji, Aivoji, Oglogbo, Gbethrome, Asakpo, Boglo, Finfonyinke/Fanuvi, Yard, Ashipanu, Kenwewemeh, Pengbo, Bapo, Azangbeme, Agbathogbodomeh, Hokedaho, Aketegbo, Wesere-Topa, Hunvemeto, Thota, Shito, Igbegbome, Petimeh, Falola, Ozinigbo, Parada, Akpato, Whanyingbemeh, Akorokodji, Agorin-Beach, Thosuvi, Yenawa, Sessi-kodji, Agbojetho, Agetopa, among others.
Visibly angry Abdul-Basit queried why despite countless promises, when politicians invade their communities for election campaigns, successive governments at the three tiers had abandoned them to wallow in under-development.
"For the last time, we aim to use this summit to draw government's attention to restore electricity to Gbaji-Seme Border axis of the Badagry West LCDA. We are drawing government's attention to ensure that there is an immediate total overhauling of the power system along this axis, so that electricity could be evenly distributed among the affected communities," said Abdul-Basit.
He added that "aside electricity, we are also drawing government's attention to make our communities places worthy of living, in terms of security and provision of infrastructural facilities such as schools, hospitals, drainage facilities, potable drinking water among other basic amenities of life."
Niger-Delta unrest
Similarly, a community leader, Alhaji Abdul-Gafar Yusuf, who bemoaned the plights of residents, however urged the authorities to come to the rescue of the over 30 communities along the border axis.
Yusuf, who also urged leaders of the various communities to close ranks with the youths in the perennial campaign to restore electricity in Gbaji-Seme Border area, however said a situation like this, mid-wifed the unrest in Niger Delta, few years ago.
Meanwhile, in their paper entitled: "Implication of 16 years non-existence of electricity in Gbaji-Seme Border axis of Badagry West LCDA in Lagos," Comrades James Agosu, Clement Aboki and Boglo Gershion stated that the 16 years non-existence of electricity in the communities had immensely affected the socio-economic life of the people, as well as posed environmental hazards because of the age-long usage of power generating sets.
N500 million for fuel consumption
The trio said, they conducted a research on fuel consumption by residents of the affected communities and discovered that annually they spend an average of N500 million to run their power generating sets, amid the apparent poverty.
However, when Vanguard visited the area, last Thursday, it was gathered that there was no presence of private nor public hospital across the communities.
There were just five dilapidated public schools, 45 private schools with most of them in shanty structures with thatched roofs.
Also, Vanguard gathered that businesses reportedly struggling to survive the 16 years perpetual darkness across the communities were about 22 hotels, seven banks, 22 petrol stations, 9 government agencies among others.
Some of the institutions suffering the ordeal, include the Nigeria Police Force Divisional Headquarters, Seme Border, Nigerian Customs Service, Seme Border Command, Nigerian Immigration Service, Seme Border Command, new generation banks such as Zenith Bank, First Bank, Union Bank, UBA, Skye Bank; petrol stations such as Conoil, Forte oil, Oando oil, MRS oil, Total, Addidas oil, Timmynat oil, Agbeke oil, Atok oil; as well as hotels such as Seaview, Dieu Merci, Jitax, PJ, Bendel, Esolaye among others.