By Levinus Nwabughiogu
ABUJA – Apparently basking in the euphoria of the victory of the Golden Eaglets at the just concluded Under 17 FIFA World Cup in Chile, President Mohammadu Buhari has nostalgically remembered the unfulfilled promises made to the 1985 team, saying he would redeem them.
It will be recalled that Nigeria's Golden Eaglets first won the Under-17 World Cup in 1985, when the president was the country's Military Head of State.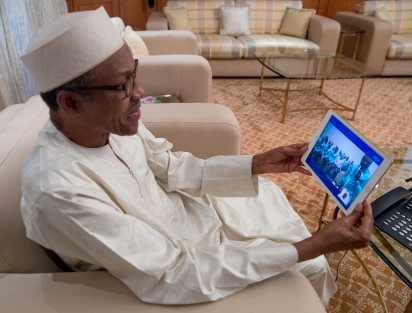 He had at a reception in honor of the victorious players at Dodan Barracks, Lagos, promised to sponsor them on a trip to watch the 1986 World Cup which took place in Mexico, also directed the State Governments to donate houses, give scholarships and name streets after the players.
But while the federal government fulfilled its counter-part promise, the State repudiated the directive.
In a statement released by Malam Garba Shehu, Senior Special Assistant on Media and Publicity, President Buhari frowned at the non compliance of his directive.
"It is a pity that those promises were never fulfilled. It is unfortunate that our players, who did us proud on the world stage went unrewarded for their efforts, despite a presidential directive to the state administrators that they be honored in their home states."
The statement noted that shortly after the commitment was given, the Military administration under General Muhammadu Buhari was replaced and that despite repeated representations made to succeeding governments by the players and their officials,the promises made were left unfulfilled.
Apologizing, the president pledged to do his best to fulfill the promise.
"I apologize for whatever embarrassment and disillusionment in your country these raised and then dashed hopes may have caused you. My government will do all within its power to remedy the situation", the statement quoted president Buhari as saying.
Subscribe for latest Videos