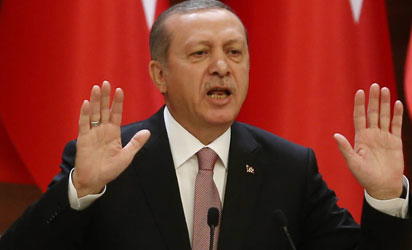 Turkish President Recep Tayyip Erdogan delivers a speech during a mukhtars meeting at the presidential palace on November 26, 2015 in Ankara. President Recep Tayyip Erdogan on November 26 said Turkey does not buy any oil from Islamic State, insisting that his country's fight against the jihadist group is "undisputed". AFP PHOTO
Russia's Foreign Minister Sergei Lavrov on Friday said that Ankara has crossed the line by shooting down a Russian warplane this week and warned the incident could severely undermine Turkey's interests.
"We believe that the Turkish leadership has crossed the line of what is acceptable," Lavrov said at the start of talks with Syrian counterpart Walid Muallem in Moscow.
Ankara "risks putting Turkey in a most severe situation, with respect to both its long-term national interests and the situation in the region," he said.
Moscow is reeling after a Russian warplane carrying out strikes in Syria was shot down on the Turkish-Syrian border on Tuesday — an incident President Vladimir Putin described as a "treachery" and a "stab in the back."
Ankara has argued that it did not realise the plane, which it said had violated Turkish airspace, was Russian, and claimed it issued multiple warnings to the pilot to change course.
The incident led to the death of two Russian officers — Moscow's first combat deaths since it launched a bombing campaign in Syria on September 30 — including the pilot and a special forces soldier who participated in a rescue operation.
Turkish President Recep Tayyip Erdogan on Friday sought to ease tensions with Moscow, calling for unity against the Islamic State group and arguing the shooting of the plane was not an act against Russia.
The Kremlin however did not seem in a conciliatory mood.
Putin on Friday discussed the downing with his security council, particularly the "increased tensions over Syria against the background of Turkey's aggressive and unpredictable actions," his spokesman Dmitry Peskov said.
The Russian government is currently preparing economic retaliatory measures against Turkey, a major trading partner particularly in the tourism and agriculture sectors.
Peskov confirmed the Kremlin had received a proposal from Erdogan to hold a meeting with Putin in Paris next week but did not say whether Moscow had accepted or refused the offer.
Putin had previously refused to take Erdogan's call following the plane downing.
Peskov confirmed that Putin was "made aware" of the Turkish leader's attempt to communicate, which was made several hours after the plane was shot down.