By Ikenna Asomba
It was an emotional moment of discovery for Mrs. Dorothy Anaduaka, widow of the late Editorial Coordinator of Vanguard Newspapers, Mr. Thomas Anyaegbuna Anaduaka, when members of Vanguard chapel of the Nigerian Union of Journalists, NUJ, visited the No. 13/19 Araromi, Alafia-Orile, Lagos residence of their late colleague, fondly called Pa Anaduaka, to pay him their last respects.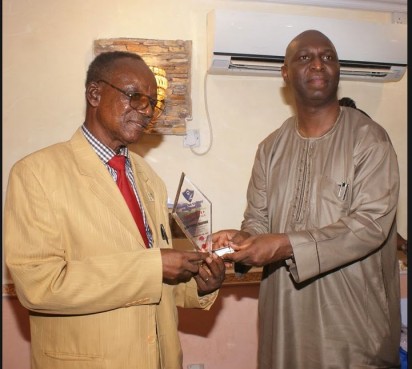 Led by the chapel chairman, Mr Innocent Anaba, the Vanguard members had taken turns to pay glowing tributes to the veteran and consummate journalist who died on October 7, 2015, aged 77 years.
Moved by the tributes, the grieving widow said that even though her husband's death came as a rude shock to her because he never told her or any of the children that he was leaving, she was comforted by all that were said about him which she said represent a confirmation of what he was to her: a simple, innocent and good man, who was altruistic and ready to assist people not minding the age differences.
"When it comes to assisting people, he could even help a little kid without minding his age. He was loving and kind. I lived with him all these years without any dent. Even when we had misunderstanding, before you know it, it's all over.
"I can't recall any record of us having any grievance passing on to another day. We both lived our lives to what God has said, that we mustn't as Christians, allow the anger that we have to last till the next day. That's how we have lived our lives," she recalled.
Asked to share her last moments with her late husband, she said in an emotion-laddened voice: "There was no last moment. I had no last moment with TA (Tommy Anaduaka). His death came as a rude shock. He didn't tell me that he was leaving. It all happened on October 6, 2015, that when he became so sick, we had to take him to the hospital very early on October 7.
"The previous night before he passed on, I kept on praying and believing God, that he would recover from his illness. I kept on praying, but he was shivering and frightened. He wasn't even responding to the prayers. I prayed all through the night, but all I observed was that my husband was only mutterings things I didn't understand. But I kept on praying that at a stage I called the son, who came and joined us.
"The following morning, we rushed him to the hospital. The doctor had to administer drip on him; so, I was in the hospital and kept on praying. After sometime, my son and I slept off because we were so worn out having not slept the previous night.
"When we woke up, we noticed that the drip administered on him had stopped running. We shook Daddy, but he became still like a stick. The nurses came in to confirm that he was dead, but I didn't believe them. The doctor came in and said same, I didn't believe him. It was when my in-law and our Pastor friend came in, to confirm same, that was when it dawned on me that Daddy had actually passed on," she said.
While paying tributes to Pa Anaduaka, his colleagues at the Vanguard Newspapers, who expressed shock over his departure barely a week after he was retired from active journalism, described him as very humble, respectful, hardworking, a firm believer in justice, equity, fairness and a complete professional journalist to the core, who did his jobs passionately.
Vanguard's Senior Assistant Editor, Mrs Judith Ufford said: "Pa Anaduaka's passing came as a shock to me, because I saw him a couple of days back sitting at his table. I went to inform him that the page 18 (Editorial page) for a particular day was ready. So, when I got to the office the following Monday and was told that he had passed on, I was shocked.
"Pa Anaduaka, even for his age, was a very competent old man. He was the kind of man who will spot an error and immediately draw your attention to it. I will always remember him as one who did his job to the very last. He was a very humble, hardworking elderly man."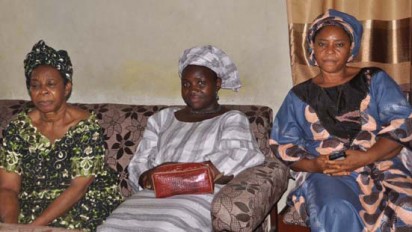 On his part, Anaba said: "Pa Anaduaka despite his age treated people who worked with him and far more younger than him as contemporaries. He wasn't a person who cared about age. All that mattered to him was getting the work done. He had so many people that in age, they were younger, but they were senior to him on the job. But he never bothered. He was a complete professional journalist that did his work passionately. With no apologies, Pa Anaduaka was a good man, who was very good at his works. We, his colleagues at Vanguard will miss him dearly."
Also speaking, Vanguard Group Sport Editor, Tony Ubani said: "Pa Anaduaka has left a monumental legacy for practitioners of journalism and Mass Communication students. Pa Anaduaka is one who should be remembered; he's one that we are very proud of. He was a very humble and respectful man.
"He loved God till he died. He was a man who loved his wife till his death. He was a man who was always talking about his family. He was compassionate till his death. He was a man that never grumbled at anything. He never grumbled at work, not even when people younger than his first son, gave him an assignment. Pa Anaduaka at work, understood that it was all about professionalism and he practiced it to the end. For us still living, I think we should take positives from the death of Pa Anaduaka."
Similarly, Vanguard Assistant Labour Editor, Victor Ahiuma-Young described Pa Anaduaka as a man that firmly believed in justice till he breathed his last.
Ahiuma-Young recalled that "There was a story Pa Anaduaka gave to me which involved some union leaders that were dis-engaged in AfriBank. When he brought the story, I told him that I needed to speak to the other side and he said go ahead. It pained me that before I spoke to the other side, Pa Anaduaka had passed on. My concern was how would the people who gave Pa Anaduaka the story know that it has been published.
"Pa Anaduaka was a man who firmly believed in justice. He will always fight and ensure that you get justice. That was why he brought that story to my attention. Our hope is that he has gone to enjoy eternal rest with his creator," he said.