Lakowe Lakes Golf and Country Estate came alive yesterday as participants at the 5th  Edition of the prestigious Southern Sun Ikoyi Annual Golf Tournament competed for various exciting prizes on offer.
This year's edition held to support the Arrows of God Orphanage saw Mr Tim Maguire coming tops with 41 stableford points alongside other winners who were rewarded with amazing prizes at the cocktail prize giving held in their honour. Other participants were also rewarded at a raffle draw held at the event.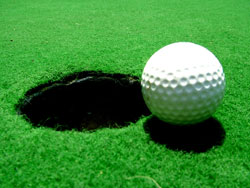 According to General Manager, Southern Sun Ikoyi, Mr. Mark Loxley, "this event is in line with our annual Corporate Social Responsibility philosophy of giving back generously to the society that has supported our business and helped us grow. It aims at bringing our corporate clients and guest together to end the year in grandeur. Since the Tsogo Sun brand is renowned for its style, class and flair, the game of golf fits in perfectly as it promotes style, class and social well being"
"We have had tremendous support from our tournament sponsors again this year as more partners came on board to identify with our laudable cause. Southern Sun Ikoyi's business partners are second to none and are always very generous in supporting this event especially with the challenging trading conditions witnessed in the country this year." Mr Loxley noted
This year's winner of the Golf Tournament, Mr Tim Maguire praised Southern Sun Ikoyi for organizing a wonderful tournament and also expressed gratitude to everyone for a wonderful day as it was one he really enjoyed.
"We were blessed with an excellent day for golf and a strong golfer turnout. It is a very worthy cause and everyone seemed to have a great time" Mr Maguire stated
A keen golfer and winner of the Oatar Airlines business class ticket at the raffle draw; Mrs Yinka Aruwajoye praised Southern Sun Ikoyi for a lovely day of golfing and hopes subsequent tournaments will be hosted at the new venue. "I would like to say bravo to the organizers and volunteers for a spectacular job. I was amazed at how well every aspect of this tournament was handled. Anytime an event such as this is held and a local charity benefits from it, it is deserving of our support"
"I must also commend the management team of this golf resort. It a pleasure playing golf in such a serene environment. I sincerely hope it continues to host more tournaments like this in the future." She added
David Ogo, the Managing Director of the Charity, The Arrow of God Orphanage thanked everyone who graced the occasion for their support and contributions towards the welfare of the orphans. "On behalf of the children, I want to thank you for the support we have received from this event over the years. We are lucky to have a lot of wealthy individuals and organizations willing to share and these contributions will go a long way in impacting the lives of the wards at the orphanage."