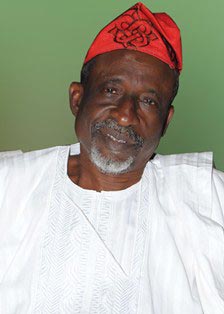 Alani-Bankole
Why I call civil servants evil servants
Chief Alani Bankole, could be easily presented as the father of the penultimate speaker of the House of Representatives, Rt. Hon. Dimeji Bankole. Chief Alani Bankole, 74, however, earned his name and reputation in his own right having been a leading official of the defunct National Party of Nigeria, and the party's gubernatorial candidate in the 1979 and 1983 elections in Ogun State.
His last bid for the governorship was on the platform of the defunct National Republican Convention, NRC in 1992. Though one of the founders of the Peoples Democratic Party, PDP, he eventually teamed with others to form the All Peoples Party, APP and became the national vice-chairman and subsequently, the acting national chairman of the party.
The Oluwo of Iporo Ake and Seriki Jagunmolu of Egbaland is also a successful businessman having been the first person to start a freight company in the West African sub-region. In this interview Bankole talks on politics then and now, the intrigues that shadowed his son's political life among other things. Excerpts:
By Daud Olatunji
What is your view on the  state of  the nation?
We are making progress. This time last year, you could remember where we were, you can now see that Nigerians are more disciplined. When you have cancer of the brain, the whole body would be affected, but when you heal yourself, the whole body will be in shape. What we need most in Nigeria in my opinion is good leadership, because, people would rather do what they see you doing than do what you ask them to do.
We are in the era of asking questions. If you ask someone to eat twice a day, you would be asked as a leader, how many times do you eat? If you preach against corruption, can you justify that preaching by your actions and inactions and because of what the person of President Buhari is, people are more disciplined.
It does not mean we have got there, but we are seeing the self discipline in the change the people wanted as well as reduction in corruption.
The problem of Nigeria since we found oil has been laziness, people don't work hard anymore because there is cheap money coming from the government.
As a politician, what do you think was responsible for the emergence of President Buhari?
It is very easy, there was no choice. People believed President Jonathan failed woefully and they needed an alternative president to change the bad and backward trend, there were only two candidates and the people chose the better. The gap was very much between them.
For me, I saw it as no competition, people had a very straightforward choice between them, not that Buhari was a fantastic choice, he's been out of government for 30 years and there is no justification to compare him with anyone in terms of quality.
Disciplined nature
The then President was a complete failure and because of the disciplined nature of Buhari, there was no other person than him among the contestants, I even expected the gap to have been more than that.
Your view on the choice of the ministers who have just been screened, are they of quality?
I don't want to talk about quality or not, their performance would depend on how we Nigerians criticise, take and advise them. Their friends and family should let them perform without any unnecessary pressure. We should know that being a minister is not an avenue to enrichment; it should be seen as an opportunity to serve and to improve the quality of the generality of Nigerians.
By now, people should know that making money for themselves is not beneficial to them. Most of the money is carried to foreign lands to support the economies of those of  other countries. I see looters as psychiatric patients because they are doing themselves no good. If you are looting for your children, they would be worse off. The best legacy you can give to your children is good training, so, they can make money.
We make too much noise and lay too much emphasis on the ministers, our major problems are the civil servants. According to the constitution, the Permanent Secretary is the chairman of Tenders Committee which is the management team.
Seventy per cent of houses in the choice areas of Lagos State are owned by civil servants, in Abuja 60 per cent of the houses belong to the civil servants, go and make proper investigation, only few belong to the so called politicians. We should put our searchlight on the civil servants, they are pretenders, they are the real problems and in fact, I call them evil servants.
Engineering companies
If you look closely, no minister can get any money without the approval of the civil servants. When ministers are appointed, they (civil servants) would give them big money and after accepting, they bring all sorts of files for approval. They would write a lot of things whenever they want to award contracts because they know they can get dollars from the foreign companies. Why is it that we don't have Nigerian engineering companies that can do our roads till today, they are the ones that write the recommendations.
During Murtala Muhammed/Obasanjo regime, there was a deliberate effort to encourage Nigerian contractors and certain contracts were set aside for only indigenous contractors or Nigerians operating and having their manufacturing companies in Nigeria.
Then, everyone was busy, Nigerian contractors were developing but suddenly today, we now have turnkey projects, they give the foreign people contracts, those they call specialised contractors. These people would bring electrical parts, contractors, experts from their countries and some will even bring 'special sand', Nigerian contractors have no job to do.
The civil servants are the ones in support of this, the minister would serve for four years, civil servants are there permanently, making these atrocities across all humanity and yet no one is looking in their direction. Our emphasis shouldn't be on the quality of the political appointees, but what we can do to re-organise the civil service.
Why do you think your party lost the last elections?
Let me first correct you, since 2005 I have ceased to be a member of PDP. I took part in the formation of NPN, in fact I was the state Deputy-Chairman and later the governorship candidate of the party, I was in the NRC in the Third Republic, and I was among the 14 people that decided on PDP and I was among the 12 people that formed ANPP to counter PDP because we saw the PDP we   formed as too big and may become a one-party system which we thought was not good for Nigeria at that level.
And when Obasanjo became the President and he also wanted to become the National chairman, I knew PDP would collapse one day because there is no way you can run the government and a party side by side. The party should be the internal watch dog of the government they install, and the moment the man who is the head of the government wants to control the party he is asking for problems for the party and for himself and that is what led to the destruction of PDP because the President was the leader of the party at the national level and the governor became the leader of the party at the state level. Who is the boss of the President? Who is the boss of the governor of the state? If the father has no more control over his children, then, what is the fruit of that family? Because we formed  the party first before we started to install the government. The leadership of PDP were parading themselves as mini gods, I think God needed to tell them that all power belongs to Him and he took it from them.
What do you think was responsible for your son's (Dimeji) alleged failure in his reported bid to contest the governorship ticket of the PDP for the last election?
My son never wanted to contest for governor. He was in school in the United States and he came home for short holiday, before then, the PDP leadership under Buruji sent an emissary to me to help them talk to Dimeji to come and contest for governorship. And when he arrived in Nigeria he told me he was not interested in being governor. I asked  why? He said he did not believe in the set up in the PDP, he didn't see anybody contesting under that party and winning. When he got to Abuja ,the then President sent for him, and he requested that he should come to Ogun State and help them re-organise the party. At that particular time, Gbenga Daniel had left the party to join Labour Party, so, my son told the then President that on the condition that the President will use his position to bring back all the people that have left including the former governor of the state, because they all left in annoyance. Then he said he  will do it, then my son left.
Request of the President
The next time he came, Buruji went to his house in Abuja to go and meet him and requested that he come and lead them and contest   for governor, but, my son asked him under what conditions? He said everything should be between my son and himself, that if my son agrees to be governor he will choose a deputy, six House of Representatives members; somebody I don't want to mention will also choose two and my son will have only one. My son said no problem, let us invite other leaders and tell them what you have told me, then, I will give you an answer in another one month.
So, after my son left Abuja, the President sent for him again about their previous discussion and before my son left for his place, he called Buruji that the President has called him and he (Dimeji) thinks he (Jonathan) is going to tell me the same thing you discussed with me. Buruji said no, don't go to the president, then, my son said I am sorry, how can you say I should not answer the request of the President.
The following day, Buruji went to court to say that my son wanted to contest for governor without going through the machinery in Ogun State and they started to attack my son. When my son came back again, the then national chairman of the party invited my son and said he wants him to be involved in Ogun State but he said he will   first go round and try to talk to the aggrieved leaders to come back including Gbenga Daniel and he did that, he toured the whole state went to all the local governments inviting those who left PDP to come back. So, that was what happened and throughout, I stand to be corrected if there was anywhere my son went and asked anybody to support him to be governor.
A lot of people believed if he contested he would be governor, but, he told them that he was interested in restructuring the party. And when it was clear that Jonathan did not want to work against Buruji my son opted out. There were meetings where they even decided that if they wanted to win they should take the candidate from Ogun Central. At a particular meeting they asked the three of them to go and decide, the three of them were  my son, Buruji and Gbenga Daniel. They were told that   they should go and take a candidate from the Central   that can win the election, but, when they got to Daniel's house in Abuja, Daniel made it clear that he wouldn't support Dimeji and when they went back to the presidential committee, they asked Daniel to make suggestions, he wrote; Sharafa Ishola, GNI, Dimeji Bankole. They asked Buruji, he said, GNI, GNI, GNI and he made it clear that he did not know GNI ,that it was Daniel that introduced him (GNI) to him. When they asked my son what his suggestion was, he said they were asked to pick someone from the central but GNI is not from the central so, they left the meeting.
How do you compare the way politics was played in the second republic and now?
There is no basis for comparison, the second republic politics was led by astute, experienced politicians. The major actors were Shehu Shagari, Awolowo, Azikwe who were the architects of the First Republic. The present republic is being led by the military and their apologists.
Kitchen cabinet
In 1999, governors who emerged were close to the military and to worsen it, the president that emerged was a military man, military people are trained to command and not to negotiate, they are trained to listen to orders and anyone who argues with them should be punished. Nigerians got the kind of politics they wanted by allowing Obasanjo to become the president, so, we shouldn't complain. He made former generals like him minister of defence, National Security Adviser and Chief-of-staff which is the kitchen cabinet.
There is no basis to compare, it was a continuation of military rule from 1999 till Obasanjo left office, there was a short break of two years, but Yar'adua died trying to change things, Jonathan was put there after Yar'adua, but, you can't give what you don't have. During the First and Second Republic, Jonathan was either a learner or still a student and suddenly you want him to rule the country. As what? A doctor of biology or zoology, how does that relate with the way of life of any economy or any social set up?
We got what we wanted by putting Jonathan there, whoever was behind putting Jonathan there was the worst enemy of this country because like I said, you cannot give what you don't have, he did his best. I understand he was deputy-governor later governor all within how many years? And you want him as President of the most populous African country!
To be a managing director, President or governor, your major job is to choose a team, it is not what you can do on your own. He was never a manager and you ask him to manage the best economy in Africa or second after South Africa and you are blaming him for choosing the wrong people? And this is the man we were told gets clearance from his wife if he wants to do anything. What is the background of his wife? If the wife is knowledgeable, what is the background? Buhari won because there was no other choice and I still believe we have no business with the presidential system in Nigeria. The military made sure we got the system into our political system because they see themselves coming back to be President and that is what has happened up till today, we have not been able to get out of that problem. As long as you have military president supporting himself with military people like this one is already doing, we shouldn't compare it with the Second Republic.