By Chimdi Maduagwu
At last the list of Minister to constitute the Federal Executive Council has been approved after a protracted period of screening by the upper legislative house. Good news, one may say, but there are still some uncertainties. Mr. President agreed that he has conformed to the constitution of the Federal Republic by appointing at least a Minister from each state of the federation but he also hinted that the constitution does not state that he must assign portfolios to all of them. This simply means that there are going to be Ministers without portfolios. We perceive that as a measure to cut cost, ministries will be reduced.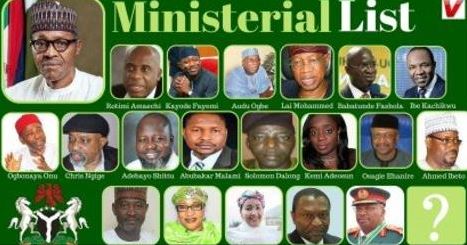 That entails merging of ministries and departments, scrapping and cancelling of some. We caution! There is a need to be careful. Last weekend, the social media were agog with one or two forms of assignments of responsibilities to the Ministers- designate.
Some of them were lucky to have been assigned full ministries and indeed juicy and flourishing ones, while some merely got junior positions; that I mean to be Ministers of State, but everyone was at least assigned something.
I was not going to wonder why that had to be because I identify with anxiety— though I try always not to be. Nigerians had become quiet anxious over time about the obvious gap in the governing process and some people therefore decided to take the bull by the horn by stepping up to do the work they thought their president was not really doing. To them, the gap left by their president is dangerous so there is a need to fill the gaps. They started doing so by assigning responsibilities to the screened personae.
I will love to join in this citizens' noble task, so Mr Adesina, hear me! I am shy and can't talk directly "at" the President but my people say that any message is sent through the smoke has already made it to heaven. In the list I got last week, the following ministries attracted my attention: Agriculture, Finance, Foreign Affairs, Health, Education, Power and Works. Those appointed by the people's parliament in these positions are— in the order I have listed them— Audu Ogbe, Okechukwu Enelamah, Kayode Fayemi, Osagie Ehanire, Isaac Adewole, Babatunde Fashola and Ogbonnaya Onu. This is an impressive team and who knows if things will work out this way.
However, I must make my own contributions. I listened to Audu Ogbe talk about Agriculture in the first tenure of Gen. Olusegun Obasanjo as President between 1999 and 2003 and I got one point. He emphasized the need for Nigeria to intensify efforts towards rice production, claiming that he had a privileged information, from a reliable research endeavour, that by the year 2015, one out of every five persons in the world would be eating rice. I do not have to struggle too hard to believe that. Even in the USA, where rice was not in the main menu list before now, there has been a change because rice has become prominent. Should I say he has scaled through my screening? I leave that to better judges.
Forgive me, my beloved reader, I am not going to talk about what or who I have nothing to say about, so I am going to skip a number of the nominees. Let me then agree with some of my colleagues that Kayode Fayemi and Babatunde Fashola fit properly. They belong to the future. The question is will they be able to reveal a taste of the future, better than they did as governors? One factor must be considered; as Honourable Ministers, they will be a little out of the direct beam that they faced as governors.
They will have a less expansive domain and expectations will not be as outrageous as they were in the days of governorship. Fashola's large visions and Fayemi's clinical demeanor will be put to test once more. Well, I would have loved to get the circle a little tighter with names like Donald Duke and Ben Bruce so that I could say like the commercial jingle of Emirate Airline – "welcome to the future." My major problem here is the midwife, who is commissioned to deliver the future. He must show awareness that he is at least expecting the future. Mr President, please be alert to this point.
I have been unconsciously drawn to the future by these two or four gentlemen, right now. For this reason, I will do a seismographic scanning for tremours of the future in the personae of the Ministers designate. Forgive me, I have to start from what or who I know. Prof. Tony Anwuka is another gentleman I want to say I know one or two things about. Quite frankly, when I knew him, in his days at the University of Maiduguri; he equally came from the future.
He had returned from the USA and was one lecturer who made the job of teaching and academics attractive to people like me as we ended up in academics. Although I cannot say much about how he fared later but I met him again, on the way from Nigeria to Atlanta Georgia, USA. I was impressed to know that he had become the Vice Chancellor of Imo State University.
I learnt that he brought sanity to the institution after cleaning up the monumental mess he inherited from past administrations. He is a very civilized person, a specialist educator and his ideas about EDUCATION should be an advantage to the Federal Executive Council when it is inaugurated and when he is given the opportunity to contribute.
Can I really identify "future" in the rest? I will not be able to take them one after the other, so I take an easy way, out of the task. Generally, I ask: what are the prospects and the potentials in these gentlemen—I mean the future in them. For them to fit into the great expectations, they should be agents of "hope," yes, hope is a major ingredient of the future … what is not but yet will be.
They are expected to be radical thinkers, who are willing to take risks and catalyze the quantum leap from the present to several rungs of the ladder of time ahead; that being what the country so much desires. They should be visionary and prove that Nigerians have not made a grievous mistake voting in their man, Mr. President. There are a lot to do right now. Nigerians are waiting for a blue print for the 4-year mandate given to this government. So far nothing seems to have happened.