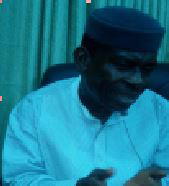 By Ebele Orakpo
The role of technical and vocational education  in national development cannot be overemphasized. In Nigeria, however, technical and vocational education was relegated to the background and so the artisan class is fast disappearing and no young hands are understudying them to take over.
As a result, industries lack the requisite manpower as products of conventional schools are not well equipped to fill the gap. Compare this to Germany, famous for its machine tool industry populated by artisans.
German's Federal Foreign Minister, Guido Westerwelle once said; "Our resources do not lie underneath our feet but between our ears," referring to education and research. This is what Nigeria's education sector should aim at.
In this chat with Rev. Chris Ugorji, Director/Principal, Federal Science and Technical College (FSTC), Yaba, Lagos, he speaks on various issues that had militated against vocational and technical education in Nigeria and proffers solutions.
Excerpts:
According to Rev. Ugorji, on assumption of duty at the FSTC Yaba on August 1, 2014, he inherited a system that was decadent; "where things were not done properly, where both staff and students lacked commitment; where parents found it difficult to buy books and pay fees for their children; an environment that was very unfriendly to both teaching and learning.
"Classroom, laboratory and hostel facilities were not enough. No official vehicle for the principal and no good vehicles for students' outings," he said.
Wrong mentality:
FSTC Yaba, the premier federal technical college in Nigeria, was established in 1948, a year after Yaba College of Technology. It has produced quality engineers and professionals. Unfortunately, the college was left uncared for. It used to be termed motor parts school where never-do wells go. That was the mentality of the public that technical schools are meant for never-do wells or second rate students.
I am a product of grammar school. In those days, if somebody went to a technical or commercial school, they think 'oh these ones are not brilliant.' Technical students were meant to be technicians; they could never be engineers or whatever. So that was the very bad mentality we inherited from the colonial masters.
Crisis point:
Prior to this time, Nigerian educational system was a product of the mentality of the colonial masters. He who pays the piper dictates the tune. They taught the arts and social sciences so most of the people that ruled Nigeria were historians. You hardly could see an engineer. That was before we began to produce unemployable graduates who cannot boast of skills; everybody is looking for a white collar job where they knot tie and speak English.
Unfortunately, the universities were not enough to cater for the  teeming population of those seeking tertiary education,  so more tertiary institutions were established so that each state could have two or three. Yet, those were still not enough. People who want to go to polytechnic or college of technology or whatever, were still regarded as second rate students. It should not be so, look at the Massachusetts Institute of Technology in the US!
So anybody who did not pass JAMB can then consider going to a polytechnic. That was then and many parents, wouldn't want their children to go to a technical school because they will end up as artisans.
This continued until we started producing multiplicity of unemployable graduates, and yet, industries lack the requisite manpower.
Where we got it wrong:
We got it wrong because emphasis was more on grammar and white collar jobs until it became obvious that this could not drive our economy. Necessity is the mother of invention so the very moment it got to that stage, people began to think. Incidentally, I came from the Tertiary Department of the Education ministry where I was heading a division that was licensing innovation enterprise institutions.
Making a U-turn:
These private institutions license institutions that produce innovators just like polytechnics but this time around, they are privately-owned as Government alone cannot fund education. So while I was in the ministry, we licensed over 20 of such institutions. We call them Innovation Enterprise Institutions (IEIs). They can compete with the  polytechnics. We have Association of Proprietors of Innovation Enterprise Institutions. They award diplomas and so the polytechnics began to feel threatened and to play politics with it. I was at the centre of it. They went to  the National Board for Technical Education (NBTE) to ask them not to recognise IEIs because they graduate people that have skills needed by industries. For example, products of NIIT will compete with a Computer Science graduate from any university. They told NBTE not to license more and they produced a memo that they took to the National Council of Education, the highest policy-making body; there and then, they were told 'no, we want alternative routes to higher education.'
Many people may not go through JAMB and those who have graduated and still cannot get employment, can come back and acquire skills.
Before I leave, this school will become a diploma-awarding institution. That is my vision for FSTC. We have 19 trades here.
Now, people have realised that you can qualify as a graduate of whatever without any skill; that is exactly why they began to do a U-turn to go to technical colleges.
The Federal Government is emphasising more on technical and vocational education. That is the genesis of Technical and Vocational Education and Training (TIVET). At the O-level, it is called Vocational Enterprise Institutions (VEIs) and at the tertiary level, it's called IEIs.
 Our graduates:
Industries come to look for our graduates because as they graduate from here, they have the skills and can work.
Most of the jobs we do here are done by teachers and students. The JSS1 building was constructed by teachers and students. The bunks are constructed by a teacher and students in the Dept of Welding and Fabrication. We want to convert classrooms to hostels, the staff and students do it. In fact, one of our staff here, who studied abroad, is fondly called Julius Berger because he does things you cannot fault. When the Girls' hostel decking collapsed and they said they needed a structural engineer, he handled it with the students.  That is exactly what is happening here.
Government is now fully aware that grammar will not put food on our table. I am challenging myself that before I leave here, I must acquire a skill.
Making T&V education more attractive:
The Federal Government Policy on admission in FSTCs is 70% technical and 30% science. We call it paradigm shift.
Many parents would want to send their children here to read literature and history because they don't understand. But gradually, they are becoming aware. FSTC Yaba is the most populated of all the 104 technical colleges in Nigeria.
We have remained focused, determined to make a difference, to transform the school. Under a year and three months that I have spent here, this place has become a pilgrimage centre so to speak. Everybody wants to come here because in this place, we insist on discipline.
Discipline:
The very moment a student is disciplined, a parent is disciplined, and the teachers are disciplined and they know the mission and vision, the reason for which they are here; which is specifically to mentor the students, then they can run with it. The Bible says make the vision plain so that anyone who reads will run with it.
When we started, most parents who were used to the old ways, were saying no initially but gradually, with tenacity and focus, they are getting it. No student will fly his or her shirt in this college whether here or outside; if you are caught, you will be sanctioned. And of course, you must be properly dressed and neat.
You have to attend classes. The monitors and class supervisors make sure there is no loitering. Parents only visit the college on visiting days so that the children will not be distracted.
Now, everybody wants to come to FSTC Yaba but unfortunately, we do not have enough classrooms and hostels. The dining space is inadequate. That is why I said we have to convert some classrooms to hostels to be able to accommodate the students because of the Lagos traffic. When they are resident in  school, they will be relaxed and not be distracted by traffic, they can now have their preps and other extracurricular activities. So the sensitisation is gradually permeating; parents are getting used to it slowly but steadily.
A product of FSTC Yaba can become an engineer or whatever he or she wants. For science students, they write WAEC, NECO and JAMB. Technical students write NECO and NABTEB. They also do their trade tests. Each of these will qualify them to enter the university to read engineering or whatever or enter the polytechnic.
Here, for you to become a technical student, you must know your math, chemistry, physics. So they can read medicine. Some of them have both technical and science certificates.