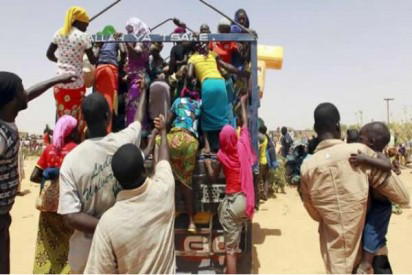 IDPs
* Seek financial support
By Fredrick Okopie
Following persistent attacks and atrocities carried out by the dreaded Islamic militant sect, Boko Haram, in Northern Nigeria, the number of Internally Displaced Persons, IDPs, has continued to rise, at a point to alarming proportion. Experts put the number at an estimated 3.3 million persons, of which 70 percent are women and children.
The gravity of this development was poignantly brought to public attention during a recent gathering in Ikeja, Lagos under the aegis of Mrs. Remi Abere, the Project Ambassador of an intervention programme for the IDPs. In attendance were the First Lady of Ogun State, Mrs. Olufunso Amosun and former member of the House of Representatives, Mrs Abike Dabiri-Erewa in attendance, among others.
Six nights expedition
Mrs Abere told Vanguard Metro that as a demonstration of concern about the situation, six Nigerian women will soon embark on an expedition tagged "Climb with Remi". The seven days and six nights expedition entails climbing Mount Kilimanjaro, the highest mountain in Africa, between November 28 and December 5. The essence of this adventure, she informed, is to raise more awareness of the plight and conditions of victims of insurgency in Northern part of Nigeria, who are presently living in various IDPs camps in the country.
Mrs. Abere, 50, and a mother of five, said the planned mission was not a matter of rhetoric because she had reached the peak of Mountain Kilimanjaro earlier in June, stressing that attaining such such height amounts to a herculean task but certainly not insurmountable.
She informed VM that these brave women are resolute in their decision to embark on this perilous expedition, not as a protest to the situation, but as a passionately symbolic gesture to embody and surmount the mountain of hopelessness. They hope, by this campaign, to get every single Nigerian involved in catering to the needs of these women and children, especially as the Christmas and New Year holidays are fast approaching. "We are calling on all well-meaning Nigerians to donate clothes, beddings, toiletries, food, and other essential supplies to the women and children in these camps, whilst urging corporate organisations to support these women and children with their products.
Offering her own passionate support, Mrs Amosun said "the horror of the abducted Chibok girls, the realisation that they could have been my girls, the thought of what they must be suffering right now, has inspired me further to assist those in similar predicaments, no matter the inconvenience". She declared further: "I am resolute to climb Mount Kilimanjaro to assist in raising funds towards alleviating the hardship, poverty and psychological trauma of women and children that have found themselves in IDP camps through no fault of their own."
Telecommunication giant, Airtel Nigeria's Public Relations Office, PRO, Mr Femi Adeniran, said: "Through the 'Climb with Remi' intervention, Airtel Nigeria has joined these committed, compassionate and selfless women and mothers to sensitise more Nigerians on the need to give as well as extend love to underprivileged people, including women and children who are victims of unfortunate social menace in our society.
"By defying height and other unfavourable conditions known with climbing Mount Kilimanjaro, these women have shown that as individuals or collective groups, we can overcome challenges when we unite," Mr. Adeniran said.
Other women to join in the climbing expedition are Mrs. Joke Olanipekun, an entrepreneur; Mrs. Uzo Nwani, IBM Executive; Mrs. Debo Laditan, a legal practitioner. In one voice, they reiterated that they were motivated by the noble desire to alleviate the pitiable conditions of the IDPs.