By Abiodun Alade
Judith Vivour-Osinaike is the Executive Director of Ben Bruce Foundation, which helps to finance children of the less-privileged in the society. The foundation also empowers their parents while rehabilitating rape survivors.  In this interview, she speaks on the activities of the foundation.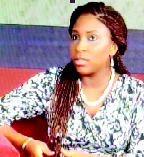 Helping children
Ben Bruce Foundation (BBF) was set up by Sen. Ben Murray Bruce some years ago, where he had been sponsoring children to access primary and secondary education.
However, sometime in October 2014, we decided to register the foundation and make it open to the public to enable indigent people have the opportunity to participate in what we are doing.
The foundation presently takes on a threefold approach in our efforts to deal with humanitarianism.
The first arm of the foundation is the sponsoring of indigent children at the primary and secondary school levels.
Not only do we sponsor these indigent children by paying their fees, we also try to provide quarterly feeding for them. We make bags of rice, general foodstuff, medical bill, clothing available to them.
Empowerment
The second arm of the BBF is occasional empowerment. In this case, we empower parents whose children are with us. We arrange vocational training for them as well as proffer financial assistance. The aim here is to get them to a point where they are able to comfortably cater for their children and as well be comfortable themselves.
We are willing to finance the child through primary and secondary education and hopefully before he/she rounds off his /her secondary school education, the parents will be financially buoyant enough to perform their responsibilities.
Under this arm, we work in partnership with organizations that offer trainings. We observed that it's not that there are jobs around but most graduates are not adequately equipped to even merit a job interview.
We have had cases where people show up for interviews without a pre-knowledge on what they are supposedly applying for, some appear unkempt, for some it's poor communication skill. This was what influenced our partnership with training organizations with the aim of getting applicants reasonably polished and packaged to at least merit an interview, and then possibly become employed.
Rehabilitation
The third is a rehabilitation quest. It is a move to rehabilitate rape survivors. This aspect of the foundation started in October, 2014 when the foundation was officially registered. It was birthed out of the increased number of women who have experienced rape.
Most of these survivors come to Ben Bruce in confidence, narrating their unfortunate experiences.
Some Infants are also survivors of defilement. Most rape survivors have been on the receiving end of this monster from very tender age.
This eventually wires them into strange and almost dangerous characters too. Some women with this kind of background begin to nurse crude hatred for the male folks.
Ben Bruce has been able to meet these persons because of his career path and personality. And the sorry tales of rape survivors triggered a passion in him to do something about it. In the move to curb this menace, he chose to assist in rehabilitating survivors.
Exposing rapists
We also try to pass a message to the perpetrators of rape. The BBF pushes to make a big deal out of a rape case. The foundation would ensure that perpetrators face the law and convicted rapists are published and aired on various media platforms. The foundation looks beyond jail penalty for rapist; it aims to expose them to the public as a form of deterrent.  The foundation works with the Ministry of Justice and other affiliated bodies/agencies.
BBF is in partnership with the Mirabel Centre, which is the first of its kind in Nigeria. The body is a centre for rape survivors.
At this highly facilitated centre, rape survivors, who report at the centre within 72 hours of an attack, get free tests and analysis. The survivors are cleaned up and then undergo psychological realignments. The centre then refers the survivors to prosecutors.
Using the media, BBF helps to project activities within the scope of the foundation's objectives. This move is important because a large number of rape attacks are not reported. This though, can be blamed on the mistrust on the nation's security agencies or a case of ignorance.
Usually, rape survivors have been quoted as saying 'who do we report to?'
Most survivors actually do not know what platforms are available to air their cases.
This is why the BBF came up with a talk show called "The Unspoken."
The show is aired every Saturday by 3pm on SilverBird Television. The show focuses on various sides of sexual offenses, including legal, psychological issues. The survivor's side is not left out on the show.
The foundation addresses cases with a trusted degree of confidentiality.
It offers homely comfort which is core in the quest to restore rape survivors.
BBF also tries to offer financial assistance to rape survivors; this becomes needful because rape cases sometime require relocating from one's residence.
Funding
BFF is funded mainly with honorariums meant for Ben Bruce at occasions where he gets to speak. He always asks  organisers of such events to pay into the account of the foundation.