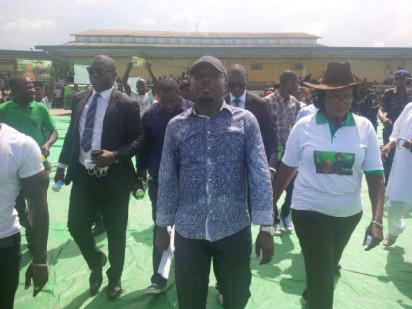 Moses and deputy at the stadium
By Abiodun Alade
He is the one the frontline candidates and their patrons are calling the noisy one. But Moses Siasia, the governorship candidate of the Peoples Democratic Movement (PDM) has a message that has captivated a sizeable section of the youths. It is no surprise that even the elders are now having to pay attention to the youngest candidate in the contest.
They did so especially last Saturday when Siasia formally flagged off his campaign. He was heralded to the venue, – the fittingly named 5,000 capacity Samson Siasia stadium, named after his elder brother and coach of the U-23 football team, Samson Siasia – by a huge crowd enthralled by his political venture.
Speaking at the occasion, the 35-year old businessman said that having achieved so much in business with over 400 young Nigerian professionals including 70 Bayelsans on his payroll; he was poised to turnaround the fortune of the state.
"My administration will diversify the state's economy through agriculture and tourism to make Bayelsa an economic hub in the South-South geo-political zone. I will increase workers' minimum wage from N18,000 to N25,000, while there would be prompt payment of gratuity to pensioners," he said.
Moses reiterated that his administration will focus on a two-point agenda of job creation and education.
"We would also address the key strategic sectors like quality health delivery by ensuring the health sector earned the trust and respect of the people. We will partner with the Federal government and other stakeholders in the improvement of electricity. We would explore other sustainable sources of affordable energy. The rural areas will no longer be thrown into darkness. We would introduce electronic badge system for security.
"The government will ease means of transportation by establishing a drive and own tucking system, build trailer parks, invest in water taxi system for the riverine communities among others"
Speaking on the composition of his government if elected, Moses said he would be the first governor to have a woman as deputy governor in Bayelsa, promising that women would occupy 40% of his government. He urged Bayelsans, particularly youths to avoid mortgaging their future with peanuts and vote their conscience during the election.
Mrs Irene Opuene , the deputy governorship candidate,   urged people of Bayelsa not to vote for any other party than PDM, stressing that Siasia/Opuene ticket is a movement that is driven by the people. "It is our turn to participate in government.
Potable water to drink
Moses is your son who has empowered other youths and women in our land. Remember, this movement is about that farmer in Nembe whose farm has been destroyed by oil spillage with no compensation. It is about our young ladies that have been forced into prostitution by bad government. It is about the people in Yenegoa who have no potable water to drink.   The movement is not about Moses and Irene but it is your quest for purposeful leadership and transformation. It is about the cry of our people against imposition and recycling of old hands. Moses Siloko Siasia is opportune to be at the forefront of the movement. We have no godfather but God and you, the good people of Bayelsa" she said