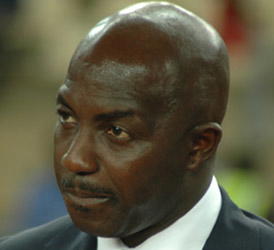 NOT A LAUGHING MATTER – Siasia
U-23 coach Samson Siasia has begged those who kidnapped his mother to free her to allow him focus on winning a ticket to next year's Olympics in Rio de Janeiro.
Madam Ogere Siasia, 72, was, according to coach Siasia, abducted in the village of Odoni, Bayelsa State, by three men on motorbike.
She was the only one at home in his village taking care of his father, who is visually impaired.
Former Nigeria coach Siasia said: "Right now I am confused, from the story I got, three men on motorbike stormed my parents' house in my village Odoni in Bayelsa State, shot sporadically into the air before taking my old mother away on a bike.
"What do they expect from me? I don't have money, I am right now on national duty, and need all the time to concentrate on this very important national task, so I beg them to please release my mother so that I can concentrate on this task of qualifying the U23 national team for the men's football event of the Rio Olympics."
Siasia confirmed that the incident has been reported to the police in Bayelsa State in the Niger Delta, where kidnapping for a ransom is common place.
The Nigeria Football Federation has also appealed passionately to kidnappers to release the old woman.
On learning of the unfortunate incident on Tuesday morning, NFF President Amaju Pinnick was downcast.
"This is quite disturbing. We are just preparing for a crucial 2018 FIFA World Cup qualifying match, and the U23 boys are already in The Gambia for a pre-Cup of Nations training camp. Why this?," Pinnick asked.
"All we can do is to appeal to the kidnappers to free Samson Siasia's aged mother. Samson is on a critical national assignment presently and the last he needs is this kind of distraction."
Meanwhile, the State Police Public Relations Officer, Asinim Butswat,  while confirming the kidnap, said Madam Beauty Siasia, was abducted at about  2am  on Monday  by three unknown gunmen.
"They went to the residence of one Mrs Beauty Siasia 72yrs, at Odoni Community in Sagbama LGA, and abducted her to an unknown destination," he said adding that the command had intensified efforts to rescue the victim and arrest the suspects.