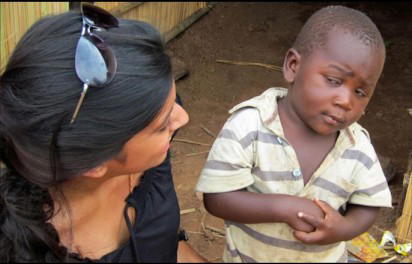 The original photo was posted on photo sharing site Imgur and message board Reddit Photo: BBC
In Nigeria, and across the social media space of several countries, a photo depicting a cynical looking boy standing next to a woman and giving her 'the mother of all side-eyes' has continued to stir hilarious memes and captions, even as social media enthusiasts have continued to raise questions on the boy's identity and meanings associated with the photo.
The iconic photo dubbed the "Sceptical Third World Child," has undoubtedly remained one of the world's famous and most widely shared memes, leaving the BBC Trending to explore the identity of the boy and meanings associated with the picture.
The unidentified boy in the photograph is "wearing dirty clothes and a wry expression, giving the mother of all side-eyes to a woman squatting next to him in the dirt," said the woman, whom the BBC identified as Heena Pranav.
Pranav is a 28-year-old doctor who lives in Chicago.
According to BBC Trending, this image was originally posted to Reddit three years ago by a man in Texas who spotted the amusing photo on the Facebook page of a friend.
Since then, it's been copied and captioned in countless hilarious ways on the Nigerian social media space.
The image was said to have been taken when Pranav was a medical student and she had travelled to Gulu, Uganda, on a project where she met the boy at a local market and guessed he was about two or three years old.
"I was with a group of other medical students at the time, we were walking around and I saw this little boy, he seemed really sweet.
"His mom was nearby working in the market. I went up to him to play with him and say 'hi'… he was the most animated child I've ever met," revealed Pranav.
The boy reportedly didn't speak English and his encounter with Pranav was captured on camera by another member of the group and shared on Reddit. It eventually went viral making the boy one of the most recognisable faces on the internet.
Source: BBC Trending